Hello tankies,Welcome to our new "Know Your Steel" series of articles. The following articles are going to be dedicated to interesting info and trivia about the tanks we have in game.A bit of side view on them. We will not go too technical or too deep and will try to provide a fun to read material.Hope you will enjoy this first article.
KV-1
When he was joining the 70
th
Infantry Division on 14
th
November 1933, student Zinoviy Grigorevich Kolobanov (Russian: Зиновий Григорьевич Колобанов) did not even dream about having his name connected to one of the most famous tank skirmishes in the Great Patriotic War.
19
th
August 1941 was a grim day for Leningrad forces of USSR. German armoured forces were easily dispatching light soviet tanks of the BT series and the T20 family.
Commander of the German 8
th
Division's vanguard had no reason to worry while his 20 vehicle group was approaching the crossroad at the edge of Krasnogvardeysk swamp. Shortly first tank was out. German vehicles stopped, believing it ran across a mine. 150 meters farther, gunner Starshiy Serzhant (Старший Cержа́нт) Andrey Usov (Андрей Михайлович Усов) was already taking aim at the group's rear, 800m further to the west.
Few moments later, hit by a 76mm shot, tank at the rear of the group had caught fire and disabled the chance of a retreat. Astonished German tankers were trying to figure out who was shooting at them. Panicked they did not
noticed 5 hunkered down KV-1 tanks, belonging to the First Battalion's Third Company under command of Starshiy Leytenant Kolobanov. Spotted late and well hunkered down, his KV-1 had continued firing until it had depleted his double battle compliment of APCR shells (total of 220) and only then had the second Soviet tank fired from its new position.
When the dust was down. Count of the skirmish was 43 destroyed German tanks. The crew of tank number 864 have counted astonishing 135 hits on their KV armour – neither of the hits penetrating their armour. They alone had managed to destroy 22 enemy tanks, two Self-propelled guns and two halftracks.
The story would have had another ending if a group of students who had visited Kirovsky Zavod did not get their homework of reworking the SKB-2 blueprint of a new heavy tank, which was supposed to replace a faulty designed T-35.At the very beginning they were forced with a series of technical difficulties, including unreliable transmission which was not meant for such weight. No one seriously believed in finding a viable solution in any reasonable time. Around that time Czech Š-II vehicles were under consideration for testing at Kubinka with the aim of copying the good solutions. Alongside the student project (SKM-2)a new idea had arisen with project leaders being J.I. Kotin (SKB bureau director) and I.M. Zaltzman (KTZ factory director). They were proposing a project of a single turreted heavy tank with reinforced armour.
The army had decided to test both of the prototypes on February 27
th
1939 and so the development was launched. Kirovski Zavod got the green light for production of the prototypes. In midst of turbulent political events, it turned out it was easier to make a tank rather than name one. It was popular but very risky to name a tank by a politician. Kotin and Zaltzman had decided to go with the wind and name the tank by then People's Commissar for Defense of the Soviet Union: Kliment Voroshilov. Officially naming the tank KV-1.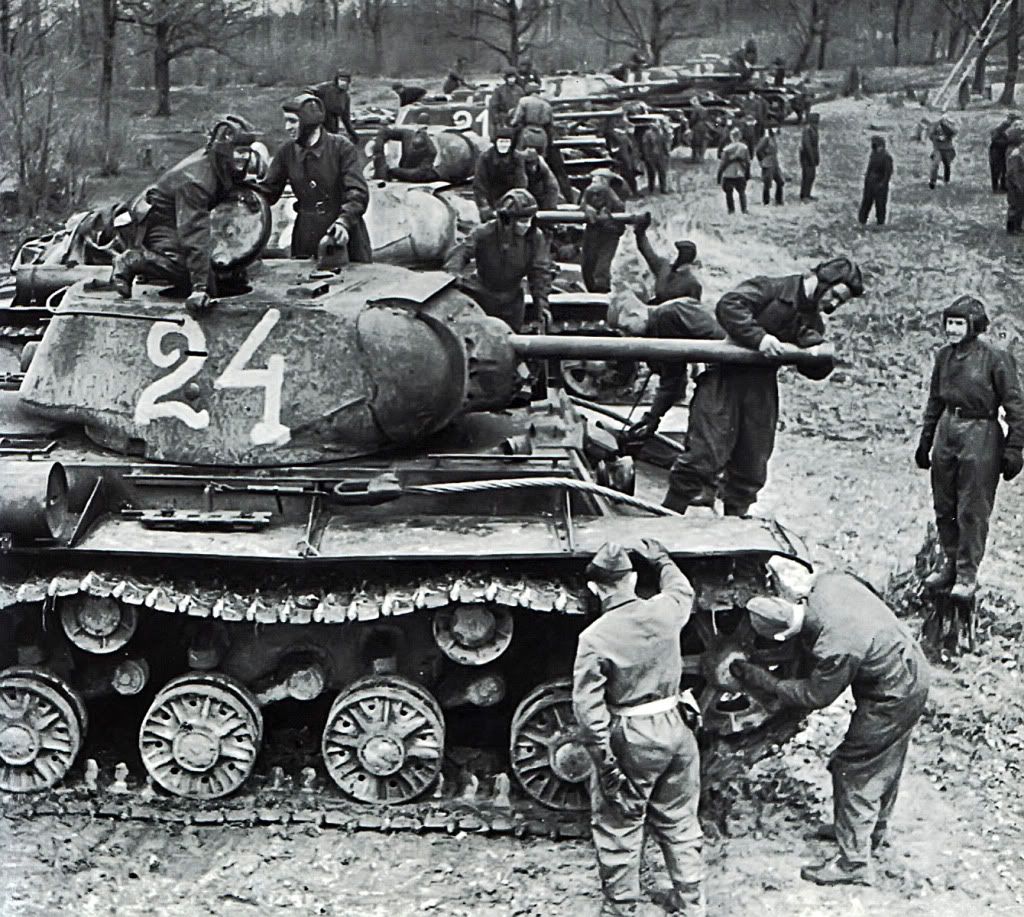 KV-1 was first to receive a diesel engine (450 HP) mentioned later becoming a standard for most tanks. Its casted turret was equipped with 76mm gun firing shells of 612ms initial velocity able to penetrate a homogeneous steel plate 60mm of thickness at 500mm distance. Despite bad presentation in Moscow, the tank was granted approval for usage.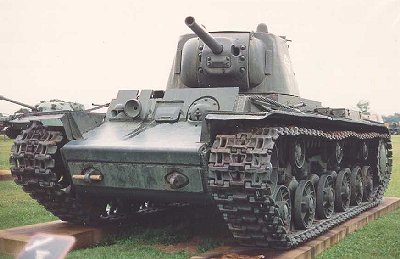 KV-1 had received its fiery christening during the Winter War. It had surpassed all competition which was sent to fight alongside it. Practice has shown that the 76mm gun was ineffective against concrete bunkers used by the Finnish. This led the military to develop a "small turret" with the 76mm gun and "big turret" with the 152mm howitzer in place. The larger turret tank was named KV-2 .
KV-1 had shown his true value during the German invasion of USSR. The Soviets had 508 KV-1 tanks on the front lines which were structured as heavy tank battalions. Less than 10% was lost in direct combat. Most knocked out tanks were the result of crew abandonment (lack of ammunition or fuel). Despite everything, crews liked their tanks as they offered great level of protection.
KV-1 proved to be virtually untouchable by any of German possessed tank mounted weapons of the initial war period. There are recorded cases of few isolated tanks holding the advancement of an entire German armoured group.
At the end the main advantage of KV-1- proved to be its greatest flaw: the weight of the tank was quite a limiting factor (bad USSR infrastructure, swamps, managing terrain).
Soviet forces soon realized this handicap and necessary modifications and changes were made. In an attempt to transfer all the T-34's virtues, the military had taken attempts to make KV-1 lighter and more mobile. And KV-1S was born.
As you may know World of Tanks has a medal called "Kolobanov's Medal"
"Awarded to a player who stands alone against five or more enemy tanks or self-propelled guns and wins (this means that you can capture the enemy base by yourself when you are against five enemies and you will recieve the achievement.)Colonel Zinoviy Kolobanov was a Soviet tank ace who destroyed 22 German tanks, 2 guns and 2 halftracks with his KV in battle on August 19, 1941."