WZ-111
samo na kineskom serveru, ali mozemo da pricamo o njemu
Today, WZ111 goes on pre-sale. KZW offers 30% Off in pre-sale which is 14000 Gold. The normal retail price is more than 18000 Gold. (edit: its 20000 !) Consider now in Chinese servers, Lowe is 12500 Gold.
WZ111 with 1550HP will have max speed of 50 KM/H, 215mm basis penetration, hull armor 130/90/60mm and turret 200/140/80mm. Loading time is same as Lowe but accurcy is 0.35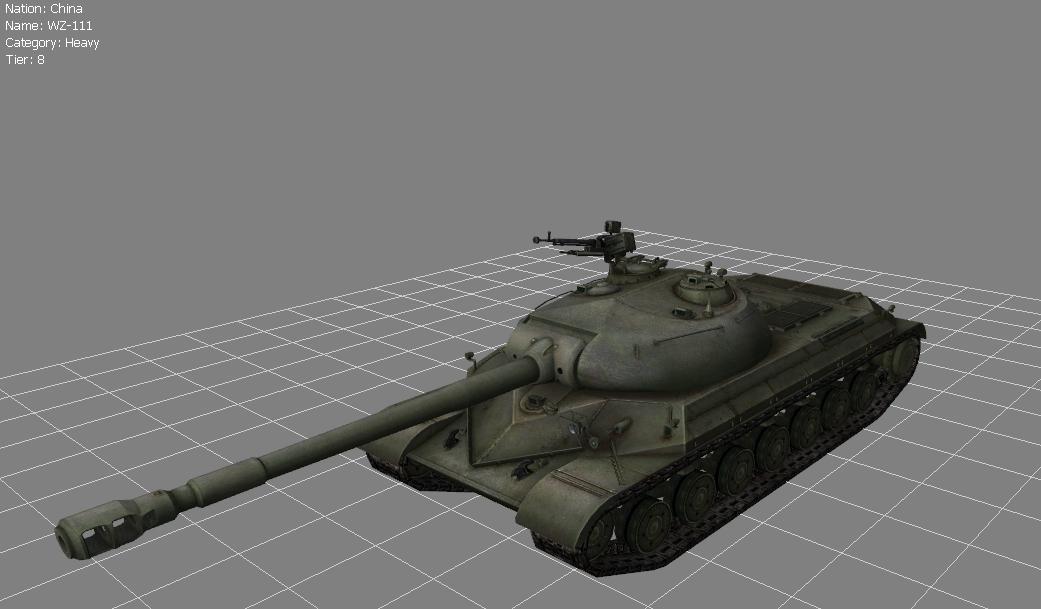 director, on 06 April 2012 - 03:08 PM, said:
nigde glavne informacije. zna li se dmg i pen ?

215mm basis penetration
A sudeci po izgledu topa izgleda da je 122mm top a dmg bi mu onda bio oko 390.
nasao sam podatke na US forumu

Cost is 14000G in a preorder package including 20X each gold supply, 100 rounds gold ammo and 3 days VIP. 2000 Pre-order sold out in 15 minutes.......

HP 1550
Weight 48.92/58.9
Engine 750 HP
Speed 50 KM/H
Turning 32 DEG/S
Hull 130/90/60
Turret 200/140/80
Damage 293-488 (390 )
Penetration 161-268 (214)
ROF 5 RPM
Traverse 30 DEG/S
View Range 370 M
Signal Range 550 M
Po slici bih rekao da je ovaj tenk na foru IS3, posto Kineski tenkovi su uglavnom slabije varijante Ruskih, ali svakako prilicno zanimljivo izgleda. Pitanje je kako bi se pokazao u praksi, pogotovo u pogledu dal je vredan te kolicine golda. Za one koji vec imaju neki premijum tenk ovo ne bi bila nuzda, a kupivsi ga da bi se mozda ispostavilo da je los i nije bas vredno rizika i dosta je deprimirajuce
Druga solucija je da se ne kupi u pre-orderu(ako ga ikada bude kod nas), pa da se ispostavi kao zlobno dobar tenkic, pa posle da se ljudi kaju (ili kupuju po full price...)...
Videcemo...