Hello and welcome to the IS-4 (AKA object 701-6), the second tier 10 Soviet heavy tank. Armed with a good gun, good all around protection and decent mobility, this vehicle can be a good companion to offensive vehicles like the IS-7 and the T110, whilst being a good protector to tanks like the E-100.
Previous vehicle: ST-1
 
Tank specs:


Tech tree:


Overview:
The IS-4 is a USSR tier 10 heavy tank that relies more on sloping itself than the IS-7. Its front is actually not that tough, but the side and rear can help an experienced player in making the vehicle incredibly hard to penetrate with artificial sloping. Tactics like the backwards sidescraper can really ruin the day for most enemies. Gun depression is unfortunately not satisfactory, which means it cant use the really good turret as well as it might have wanted to.
Its mobility is decent, but worse than the IS-7 and T110E5. It is more mobile than the Maus and the E-100, and does have a higher top speed than the T110E5 (though less agility and acceleration), but unlike these vehicles, soft terrain affects it a lot.
The gun is a real beauty, somewhat accurate, fast at aiming and reloading and can penetrate almost every vehicle in the game with relative ease.
Price: 6 100 000
Camouflage: Decent
Gun Depression: -6°/+16°
 
Pros:
- Very high penetration with both standard and premium ammo.
- Decent enough accuracy and aim time.
- Turret can be incredibly hard to penetrate at long and medium distances.
- Great all around armour.
- Good amount of health points.
Cons:
- Frontal armor is not very good when not sloped.
- Not exactly the fastest or most nimble vehicle around.
- Prone to being set on fire or ammo racked.
- Unimpressive gun depression.
 
Designation:
1.Warrior 2. Steel wall 3. Sniper 4. Support unit 5. Heavy armour slayer
 
Crew:
1. Commander (also a radioman)

2. Gunner

3. Driver

4. Loader
Crew skills (only an example, up to 4th skill):
Modules:
Hull:Armor scheme currently in use:

140/160/100
The hull is sloped at the front and gives protection against 230 mm of average penetration guns. Weak spot is the thankfully small lower hull and the drivers hatch, which even with 200 mm of armor is still not capable of bouncing accurate 225 + pen guns. The hatch is made of three plates, so I suggest always shooting the one that looks the least sloped.
The good thing about the IS-4 armour is not the front though, it is the side and rear. Sides are 160mm slightly sloped and the rear may be only 100mm but it can bounce 175 penetration guns if they were not aimed well, which means IS-4 can slope itself very well. At long ranges, a well sloped IS-4 is incredibly hard to penetrate. Tactics like the backwards sidescraper can be very useful in city environments. Up close and in the open though, more accurate guns may still penetrate you in one of the two frontal side plates (FSH on the picture) when you are sloped well. That is because you are showing them at a lesser angle than before. Unfortunately for the IS-4 the ammo rack is behind them .
 
Suspension:
IS-4 / Max.capacity 66.30 / Turn speed 26 deg per sec.
Nothing to research here and thankfully this suspension is more than enough to carry all modules + equipment you might want to take.
 
Engine:
V-12 – 750 h.p. – 15% chance of fire
Important thing is that it gets the job done. You accelerate more slowly than an IS-7 and dont keep your speed as well, but are slightly faster than the Maus and E-100.
 
Radio:
10RK-26 – range 720 meters
A standard tier 10 radio. Very good.
 
Turrets:
Mod.701 No 5
Armor: 250/200/170
Rotation: 22 degrees/second
View range: 400m
Turret is very formidable. Even Tier 9 TDs are going to have a hard time if they hit the IS-4 there. Mantlet is pretty much impenetrable. Side and rear are sloped enough to offer some protection too. The only real frontal weak spot you can count on is the turret top. IS-4 is a small tank, which means vehicles that are higher than it can penetrate the top armor with ease, or hit the commander's cupola. About 200 penetration should do the job. Also, low tier vehicle can use a risky but rewarding weak spot. The turret is sloped in such a way as to create shot traps, which can deflect shells into the weaker armour on the top of the hull. I suggest IS-4 drivers not to rely on this turret when in close combat with bigger or smaller vehicles, since the enemy may know where to shoot and still deal damage to you. Even so, when fighting at medium and long ranges, anything short of a T9 TD with premium ammo is almost certain to bounce.
 
Guns:
122mm D-25T
RoF: 5,45
Penetration: 175/217/61
Average Damage: 390/390/465
Accuracy (100m): 0,46
Aim time: 2,9
There is absolutely NO REASON to use this gun. It was good on the IS-2 and KV-3, but on a tier 10 it is absolutely useless. Even worse than the 704 stock gun. Never play the tank with this. Only real reason it is here, is because this is the IS-4's historical gun for the first models. You already have the 122mm M62 researched on the ST-1 or the IS-8.
 
122mm M62-T2
RoF: 5
Penetration: 258/340/68
Average damage: 440/440/530
Accuracy (100m): 0,38
Aim time: 2,9 sec
This, along with the 130mm S-70, is the best gun a soviet heavy tank can mount. It has great penetration, relatively good accuracy, and decent damage. Compared to the IS-7's gun, it deals less damage per shot, but fires faster, has slightly better penetration, aims faster and has slightly better overall DPM. M62 can penetrate IS-7, E-100, T110E5, Maus and other IS-4 tanks, but I do advise you to still hit their weak spots. Avoiding to shoot the JTiger superstructure and the 704 mantlet is wise too.
Like the T110E5, the premium ammo is HEAT. HEAT does not get normalization, which makes it less effective against sloped armour than APCR, but thankfully it does not lose penetration with distance.
 
Comparison with its peers:
IS-4 vs IS-7
IS-4 has better side and rear armor. It is also smaller. IS-7 has a superior top speed, better acceleration and agility, though not by much. It also has noticeably less gun depression. IS-4's main gun has better accuracy, penetration and aim time, though not by much. It also loses in pure damage per shot. Frontally, the IS-7 is tougher, as under perfect conditions even a 200 penetration gun can score a hit on the IS-4s lower frontal armor. However, IS-4 can artificially slope itself and has a larger health pool.
In short:
IS-4 has a larger health pool and can slope itself better.
IS-4 has better side and rear armor, though IS-7 is tougher frontally.
IS-7 is faster and more agile.
The two tanks have similar guns.
 
IS-4 vs 113
The 113 is much faster and at long range has a more effective upper frontal plate. The chinese gun has worse penetration, but is otherwise better in every way to the M62 gun. However, the IS-4 has much better gun depression and has more dependable armour that works decently at close ranges too.
 
IS-4 vs Maus
The IS-4 and the Maus both rely on sloping themselves in order to achieve bounces. At long ranges the turret of the IS-4 is harder to penetrate than the Mausturm. Still, the Maus is the superior steel wall, but is obviously a good deal slower than the soviet heavy. IS-4 is a smaller target, but Maus can cover its teammates much more effectively and is a superior ramming tank than the 4. Even though the 122mm gun has 50 less damage, most people can say it is overall superior to the 128mm cannon because of its better penetration.
In short:
Maus is still the best steel wall we can find.
122mm gun is overall a superior gun than the 128mm.
IS-4 is faster and more maneuverable.
Maus can cover its allies more effectively.
 
IS-4 vs E-100
IS-4 has a gun with much better accuracy, aim time, rate of fire and penetration, but the E-100 deal a lot more damage per shot. IS-4 is faster and more agile than the E-100, with a tougher turret and smaller weak spots. E-100 has better protection against artillery due to its thick side skirts and is a superior ramming vehicle.
IS-4 vs T110E5
Both vehicles have guns with practically the same AP penetration. Though IS-4 has better HEAT penetration, the difference is not high enough to be felt. The 122mm M62 has better damage per shot, but fires more slowly and is not as accurate nor as fast in aiming as the M58. T110E5 is a lot faster in accelerating and is much more agile, but has a worse top speed.
 
IS-4 vs T57
The T57 has a lower top speed but is otherwise faster and more maneuverable.
 
IS-4 vs AMX 50B
The AMX 50B is faster, more maneuverable and accelerates better. It has weak armour compared to the IS-4, especially on its turret. Its gun has smilar penetration, better accuracy and aim time, but does less damage per shot. AMX is a tank with an auto-loader, but after firing its 4 shots it is very vulnerable for a time.
 
Historical IS-4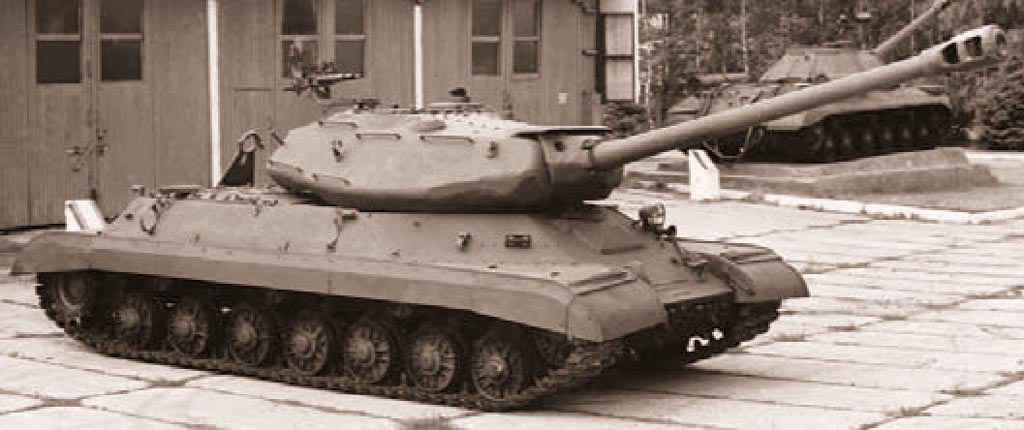 Originally developed in competition with the IS-3, the IS-4 was similarly an extensive redesign of the IS-2. The hull was lengthened, with an extra set of road wheels added and an improved engine. Both the hull and turret were uparmoured. Several alternative armaments were explored in paper studies, but ultimately the IS-2's original 122mm gun was retained. An effort was also made to incorporate technical data derived from study of the German wartime Panzer V Panther tank, which influenced the layout of the IS-4's engine cooling system. The tank was approved for mass production in 1948, but due to disappointing speed and mobility, only 200 were manufactured. Most of these were transferred to the Russian Far East in 1950, in preparation for the planned Soviet intervention in the Korean War. When this operation was aborted, the tanks nevertheless remained stationed in the region until their decommissioning in the 1960's.
WoT armory report:http://wotarmory.com...-on-testserver/
WoT Guru Weak Spot guide:http://wotguru.com/w...ots-guide-is-4/
Edited by Charcharo, 31 March 2014 - 10:51 AM.