Oka and kondensator
Shoot in Malkinova, Destroy IS7 in Porohovka
Morning chaps
Today I shall have a look and share some history based around the rarer and more interesting artillery pieces out there, all the vehicles can fit into the WOT time line, in some cases better than a few of the more imaginative ideas the Devs have in place currently.
The first on our list are two Soviet monster guns, the Oka and the Kondensator  
Kondensator
The Kondensator or in Russian "Condenser, capacitor or compensator depending which source your looking at ?" (Конденсатор) was a super large SPG built by Soviet Grabin Design Bureau in 1955. the weapon was designed and built as a reaction to the American M65 Nuclear cannons the so called Atomic Annie. The Object 271 chassis was built at the Kotlin design Bureau in Leningrad. But total production amounted to only four vehicles.
The M65 was part of the American Pentomic Division this was a newly devised department who's aim was to find a solution to the potential horde of Russian that could stream across the border into Europe with very little notice, never having an equal footing in numbers the Pentomic Division worked on the idea of vast amounts of low yield nuclear weapons used in a tactical rather than strategic manner. As a result they build and designed everything from Atomic Annie, though to the "Little Fella" warhead that was fired from a recoilless rifle (it has to be questioned the effects the firer may have suffered launching an atomic warhead at a group of charging tank but never mind) this tactic was not unnoticed and the Soviets soon copied the idea to match or equalise the Arms race.
Initial observed by western sources on parade in 1957 on Red square it was believed to be a fake to intimidate, after witnessing live firing trial NATO was impressed by the firepower but could not get correct information about it, they incorrectly guessed its calibre at 310mm; so you will see this occasionally called SU-310 even though it is not a 310mm weapon.
The primary role of the weapon was to bombard troop concentrations, communication centres and if needed: towns and cities
She was crewed by 8 men and a small crane on the back of the vehicle helped load the shells.
it Was Nikita Khrushevs military reforms that spelled the end of this project along with others, he favoured the MBT, with infantry support, a set weight ratio, mobility over armour etc, it was these sweeping changes that saw the end of the Soviet heavy tank and artillery systems and the continuation of the MBT and IFV with missile and lighter SPG support.
There is one survivor at the Moscow Central Armed Forces Museum, after being retired in the 1960's.
Firepower
The main weapon on the Kondensator is a 406mm Howitzer, able to fire both conventional HE explosive rounds and if needed a small tactical nuclear warhead to a range of about 15 miles, each vehicle carried one round and 2 powder charges, with the rest to be brought up on a separate munitions vehicle.
The weapon had to be lowered into a horizontal position to fire and it was this action that resulted in its loading time of 5 minutes, coupled with the fact each shell weighed just over ½ a ton. or 1190lb I have no details on effective amour on concrete penetration, but do know its muzzle velocity was 716m/s.
One can calculate from similar test of munitions in an open area against wooden unprotected and semi protected targets; as demonstrated by field tests by Professor Zuckerman using detonated munitions. The 1000lb bomb, halved to include a thicker shell case on the 406mm round, has a lethal killing area of 40000 square foot, with shrapnel velocity at 6500 ft/s, any troops or vehicles behind ½ steel plate will be injured or incapacitated in a 19500 Square foot area.
Suspension/Power
Limited information at the moment, the vehicle weighed an impressive 65000kg, and still had a max speed of 30km/h, its diesel engine (Model V-2-IS (V2K), V-12 Water-cooled Diesel Engine, 700 horsepower @ 2000 RPM
) some sources say it provided 750hp
Fully tracked with 8? Road wheels the hull appear to be a modified version of a IS with the same distinctive steel road wheels. The Suspension has been heavily modified to deal with the tremendous recoil forces. Even so the vehicle itself was often badly damage by the recoil and both tracks and suspension suffered with each shot.
Dimensions
Length 65ft 7,39in
Overall Width:  3080 mm 10ft 1,26in
Overall Height:  5750 mm 18ft 10,37in
Ground Clearance:  460 mm 1ft 6,11in
Oka
The Oka was made in a similar way to the Kondensator; it was also used with mind to deliver atomic shells into heavy troop concentrations and built up fortified areas.
Weighing in at slightly less that the kondensator at a fairly heavy 55.2 tons and with a crew of 7
Utilizing the Object 273 chassis (essentially a chopped in half T-10 ((IS-10)Heavy tank) as opposed to the 271 hull of the Kondensator, there are several small difference, notably even more durable suspension than that of the Kondensator, and even this was reported to give way under such extreme pressures when firing her main gun. Not only was the suspension itself damaged, but the rear drive sprocket would be torn of, and the gearbox ripped from its mountings (one muses on the idea of this firing across Campinova, just to die from counter arty as it permatracks itself – however I digress)  
Built at the Kirov plant, the 273 chassis had eight road wheels in pairs either side using the smaller steel type favored by the heavier soviet tanks. The last two pairs have massively heavy shock absorbers on them to help with the recoil. A rear mounted semi sheltered cabin is just behind the rear of the gun.  
Engine was the same V-12-5 Diesel (700 hp at 2,100 RPM)
Firepower
Ok the Kondensator was fairly mad with its 403mm gun, well the Oka gun is even bigger, the barrel was 20 meters long and weighed 420mm gun, the shell weighed 750kg! Some sources suggest 620kg, with a longer barrel, range was about 45km
The shell was three parts again with warhead and 2 x powder bags.
Standard He rounds and of course a small tactical nuclear warhead could be fired if needed. One of the main reasons weapons like Oka disappeared not just from Soviet arsenals but from all advanced nations was that Nuclear weapons were also decreasing in size and increasing in yield, down to 155mm sizes, this being far more preferable than a dedicated gun. The Oka's huge length and dimensions also made her hard to transport, and impossible to move though tight towns and villages.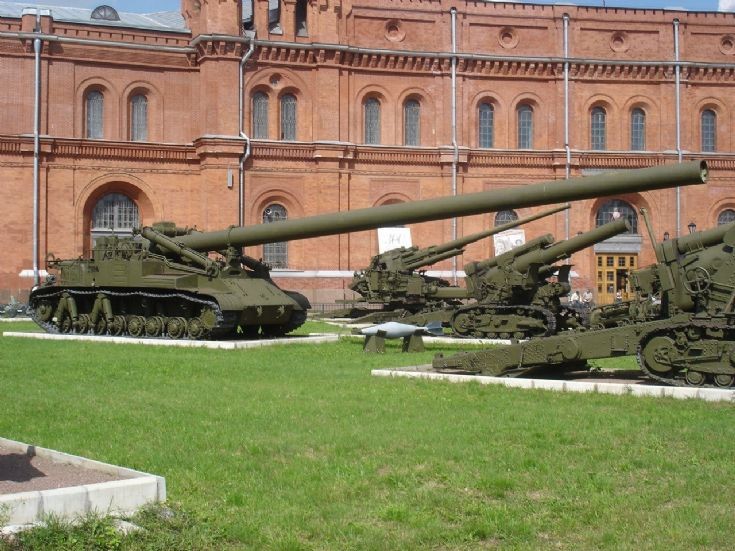 Well I hope you enjoyed this brief foray into two very large and dangerous SPG's, I haven't included and potential WOT game play as I cant see it happening and while did write up some potential ideas, I just cant see anybody but the pro arty camp enjoying the results one iota. So have some pictures instead. – ed