I currently have no reliable way of tracking this thread, until the forum hiccup regarding some of my threads is resolved.
If you want to give feedback or bugreports, please do so through the contact page on my website.
Color messages:
.

Ingame Battle Ended Notifications with raw XP and Credits: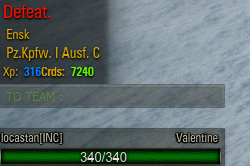 .
Papadigi Detailed Version:
.
Minimalistic version:
Update 99:
- AFAICS: Just folder rename should do the trick.
Update 981:
- Properly excluded domination mode from getting logged in long term stats (stat_config.json).
Update 9.8:
- Reworked some features and overall scripts to fit 0.9.8.
Update 9.7:
- Just folder rename afaik so far. More when 9.7 finally goes live.
Update 9.6a:
- Updated expected tank values.
Update 9.6:
- Just folder name change.
Update 9.4b:
- Updated expected tank values. (v17)
Update 9.4a:
- Detailed version available.
- Updated expected tank values.
Update 9.4:
- Minimal version ready.

Other language ports:
German version (PapaDigi_08)
Czech version (Demonyq): Thread
Spanish version:http://forum.worldof...tadisticas-083/
French version (dede2larue):>>Download<<
Hungarian version (by nabukonodozor):>>Download<<
Polish version:>>Thread<<
Turkish version:>>Website<<
If you do not want the color message popup replacements:
Set the following option inside stat_config.json (edit with Notepad++) to false:
    "replaceBattleMessages": true,
Edited by locastan, 16 July 2015 - 07:29 AM.