I've been watching Masterchef on the telly and a thought occurs - Michel Roux Jnr is a goddamned vampire. Here he is.
Michel is the guy with the beard. He is pictured next to his servant, Igor. As this is a family friendly forum I've cropped out the blood stained corpses at their feet.
Ok, so why is this guy a vampire (other than the fact he looks a bit like one)? He likes his meat "rare". And when I say "rare" I mean "a decent vet would have that bugger on its feet again".  See this? This is practically burnt compared to what gets served up on that show.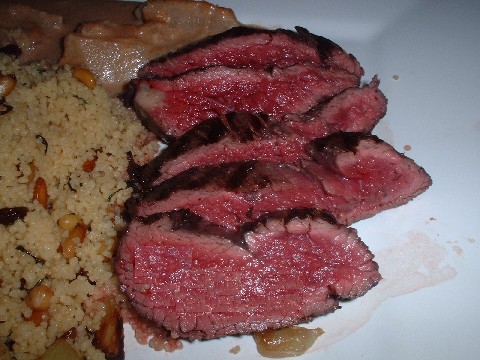 I know, technically, vampires drink blood and are not particularly known for their meat-eating habits. But this meat is still bleeding. You can almost hear it screaming for mercy as he sinks his fork into it with a pile of asparagus.
I don't eat meat anymore, unless it is organic "happy meat", but when I do/did I prefer to eat something which is definitely dead. A heart beating on the plate does not an appetizing looking dish make. At least that's my opinion. What about ya'all? Do you like your meat actually, you know, cooked and fit for human consumption? Or do you prefer it as lions intend it?
This is my kind of thing
Yum!