Inspired by the damagepanel of Mynos.back in the good old v.0.7.5 days,
i created an updated and working version of an original Damagepanel with Angles.
In front of every tank there's a little white indicator showing the direction where
your tank is pointing at (should be the enemy).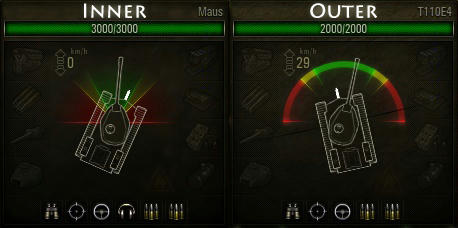 The green area shows the angle from -30° to 30° .(till the green line).
Your tank should be angled correctly if you stay in the green section
The yellow.one up to 45°, where your sidearmor gets vulnerable.
The red part is a very bad choice.

 
This modification is divided into to options:
1.) Angle indicator starting from the middle in rays (Inner)
2.) Angle indicator as a half circle around the tank (Outer)
 
Version 1: Vanilla Damagepanel with colored angles
Version 2: Advanced Damagepanel with Hitlog
FAQ:

Enjoy!
KillerEnte94

.
Other topics:
Mod collection
Modified battlescore
Transparent modpack
Beach hangars
Edited by KillerEnte94, 30 August 2014 - 05:13 PM.