I've decided to focus on the lighter side of tanking and possibly supply some much needed humor to the forums. Enter the first of many "STRANGE TANK STORIES FROM BEYOND!"
Enter our home grown friend from Russia, the NI Tank.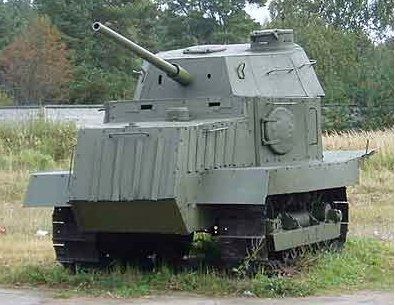 The Story
At the beginning of the fighting between Germany and Russia, many of the factories near the border had been abandoned due to invading troops. As a result they decided the machinery would be used to repair damaged vehicles.
On the outskirts of a town called Odessa there was intense fighting between the Soviets and Germans. The Soviets managed to hold the town for 72 days before they were forced to move out. In midst of that siege many of the T-26 tanks were damaged beyond repair or plain destroyed. Unfortunately they did not have the materials to build new t-26 tanks. As a result of the dire need for more armored units the citizens decided to create their own home grown invention. Enter the NI tank. Using a tractor base, they lowered a metal box on top of it that consisted of a sandwich of thin naval metal/boiler plate and wood/rubber to help against small arms fire. Luckily they had enough large machine guns, mountain guns, and t-26 turret variations to properly arm the home grown tanks.
When the first NI came out of the factory one of the workers grabbed a piece of chalk and wrote in big letter on the side "Death to Fascism!"
A recorded total of 68 of them were built though they are unsure still of that amount. The NI had whooping top speed of 7 km/h.
On September 1, 1941 is when the NI tank first saw action. They arranged a formation in preparation for the German attack. When the German's first saw the NI they were unsure about it and ended up pulling back to where they first started their advance. The Russian quickly pulled the NI away from the front line to keep the secret of their home grown tank out there so the German's would remain unaware of it's capabilities.
In one very memorable episode a battalion consisting of the small tanks entered a German occupied town. Though the troops fought with small arms fire the NI was able to withstand the fight and tow away 24 German guns.
There you have it. The wonderful NI tank. Be prepared for the next installment of "Strange Tank stories From Beyond!"