TOG II Fast Scout
8.7 super leak
preview
Morning chaps
This just in from a close source at the RU server super secret test site based under the Ural mountains, we can confirm that WG are making a fast light tank for the 8.7 future release, the TOG 2 fast scout tank was originally built by the same men who built the original TOG 2 tank, after a severe chastisement by Winston Churchill in 1942 they went back to the drawing boards, and deciding that the last 49ft of the TOG was not strictly necessary with the cutbacks imposed by the war effort; shortened their model and made it a recon unit.
The Tog RecOnnaissance Light and Low model was designed to replace tanks such as Cromwell and Chaffee as a light fast but heavily armored scout, able to withstand all but the biggest German guns, the new TOG was impressive to say the least, with a top speed in excess of 80kph over rough terrain, and wielding up too 100mm of spaced armor all round, carrying a fully automatic 17 pounder gun that was later copied by General Electric and turned into the GAU8
the TOG is( sometimes referred to as TOG III* -
Book Source: Rare Tanks; E. C'tar pages 87-89
The TOG  scout was powered though a pair of Twin linked Rolls Royce engines and a Merritt brown Flux Capacitor that ran from the front of the tank to the rear, early experiments on with Radar and tracking devices gave the TOG scout the ability to detect tanks at several miles away, although only several were built as Germany capitulated after receiving news that this tank was placed in service. only one battle is recorded, in which a Tiger from the 185th heavy tank brigade was knocked out in a frantic fight.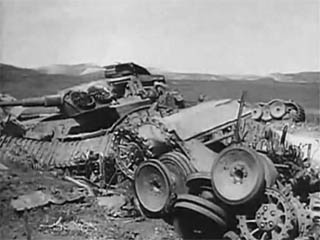 Remains of a tiger after being strafed by TOG scout
SerB has stated in an internal email to the Super Super testers that the 8.7 TOG will be a premium tier 5 brit scout, although no gold amount has been confirmed it is expected to be around 1500. while not much is know at this time, and the Ural mountain developers are still in testing, we were able to get these screen for you -
What we know
ARMOR 105/100/100
SPEED 85 KPH
GUN 17PDR FULLY AUTO
PEN - 171-221
VIEW 420
TRAVERSE 48
COST 1500?
TIER 5
Ell i hope you like, will you scout and light drivers be buying the TOG III?  ...
let me know - ed
Edited by edfrancis001, 18 April 2013 - 11:00 AM.
Thread moved to more appropriate section of the forums. ---Orree