This is a continuation of the InfoPanel of "Kriegstreiber". I have completely reworked it optically. The idea comes from a screenshot of a russian WoT webpage, which showed coloured areas for the front, side and rear armour of the tank within the InfoPanel. That makes it quite easy to get the right information in a fraction of a second. Too bad, there was no link to the modification respectively the xml file. The implementation was quite tricky, cause multiple backgrounds are not possible within the InfoPanel but i found a workaround.
For the low bro's: An InfoPanel shows information of targeted tanks via macros. So you got always correct values in contrast to icon based modifications. As an extra I implemented an indicator for the chance of a successful ramming attack. Green means good, yellow means think about that and red means you should not do that.
How to use:
1. Aim at an enemy, friendly or destroyed tank to get the information via InfoPanel.
2. Press L-Alt for the values of the own tank.
3. Hold Ctrl and you can move the InfoPanel with the cursor to another position in your UI.
Screenshot (new version since 0.9.15.1):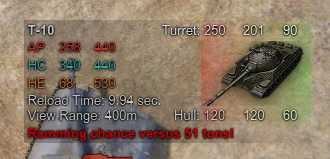 Installation: Unpack and copy the content to the WoT main directory.
German Forum: http://forum.worldof...opanel-deutsch/
# thx to Assassik for fixing the pyc!
# thx to webium for fixing the pyc (0.9.8 to 0.9.9)!
wotmod File from Ekspoint
I'm responsible for the config file in this MOD of Ekspoint, but the Ekspoint files are in the package too.The MODs from Ekspoint are controversial.Everyone can get information here.
Download via MediaFire (last update 09.03.2021):
To update after the annoying micropatches, just replace the *.wotmod files form the original source and keep the config.
Edited by masheene, 09 March 2021 - 10:31 PM.
This post has been edited by a member of the Moderation Team. ~ Ender__wiggins