That's right, I said job as it's no longer a game. The Oxford English dictionary describes a game as
"an entertaining activity or sport"
while a job is described as
"the regular work that a person does to earn money"
It's not a game anymore, it's a job. We work to earn credits in order to keep our tanks running. We constantly moan and complain about this job on the forums and in game (I'm talking to the people in 2 tier spread matches who starting moaning the second the match starts when they're the bottom tank).
There is no skill involved anymore.
Games are lost within the first three minutes as people just charge off and die.
Gold ammo for credits has destroyed any tactical advantage you may have had.
MM is rigged no matter how much people complain it's not. When you're constantly getting 31% win chance matches and teams full of red tomatos it destroys any fun that the game once had (I know not to believe XVM, it destroys morale so I tend to ignore it. I just like to see what I have on my team with me).
My average games played per day has been drastically dropping. I used to play 60+ matches per night but over the past few months it's been slowly declining as I look elsewhere for entertainment. My average game played has dropped to 8.9.
Pretty soon I feel that number will drop to zero unless Wargaming make drastic changes to the match making system. I know there are others out there who feel the exact same way that I do, and I believe that unless they pull their fingers out, Gaijin will take away a lot of the people who are sick to the back teeth of the way this game is going.
You constantly advertise your game (though I have yet to see any adverts on TV), yet you do nothing to make sure these new players know how to play. So they manage to grind their way all the way up to tier 8 (or just buy tier 8 premium tanks), thus the higher tiers are polluted with no skilled players who have no idea how to play.
And what would SerB have to say if he saw this thread?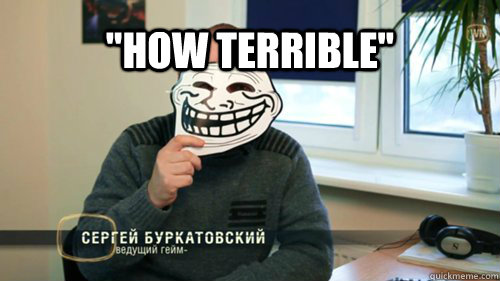 That's my 2 cents. I will no longer be funding Wargaming or Gaijin. Battlefield 4 beta begins in three days time.