Download version 058 (22 August 2019), as well as additional backgrounds (17 MB).
Latest version is always available here, in case I forget to update this page.
---

Tank Icon Maker allows you to create your own custom icons for World of Tanks. The icons are created by combining layers and effects, which are driven by various tank properties. Create a style once, and simply re-run the program whenever an update is released. No need to wait for the author of your icons to publish an update!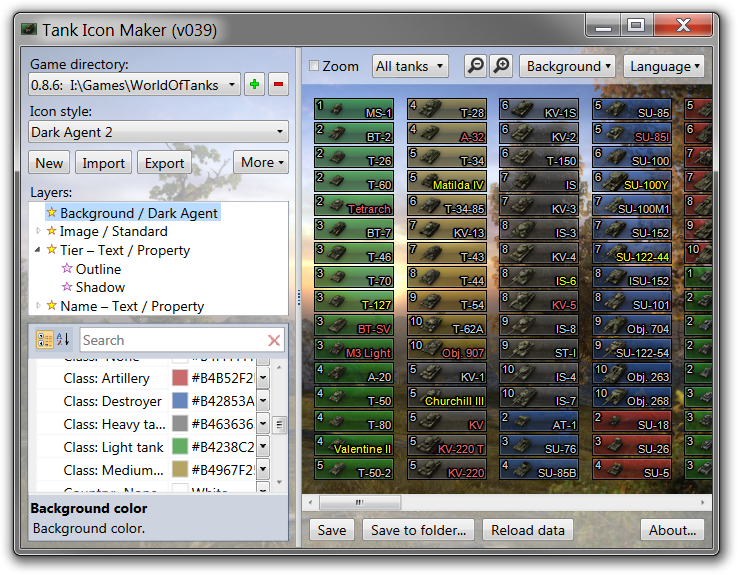 If you're not entirely happy about a particular icon style, you can change anything you want about it. For example, remove the background. Change fonts and colors. Remove the tank image, or change it to a contour icon. Add an asterisk for tanks with autoloaders. Add data on average damage for the top weapon. Add a flag representing the tank's nation. Remove everything apart from the tank name. Or use your own, customized tank names. Whatever you can think of.
Features
Tank properties are automatically extracted from your World of Tanks installation and hence are always up-to-date.
Select your favourite font smoothing mode, whether you like it crisp and pixellated or ClearTyped.
Automatically fit text that's too small or too large.
Select Roman or Arabic numbers for tank tiers.
Create icons of any size, be it a tiny 24x24 square or a 500x300 monster for your website.
Use it in your own language (translators wanted!)
Lots of built-in properties, plus a feature that exports them to .csv files.
An icon is composed of layers, each of which may be altered by a number of effects. Each layer varies depending on the tank the icon is for. For example, you can create a text layer and select the "tank name" property, and each icon will show the name of the relevant tank. A shadow effect can be used to make the text more legible, and the color of the shadow may vary based on whether the tank is sold for gold or not. This is just an example and a number of other layers/effects are available.

If the property you require does not exist in the game, you can create your own by creating a CSV file. It's also possible to make a slight modification to an existing property, for example to change the availability status of a specific tank. See the FAQ section below for further information.

Some layer and effect properties (usually the Color and the Visibility property) can be varied depending on which tank the icon is for. Controlling the visibility of a layer or an effect is the best way to construct complex rules, however there is a limit to what is possible. Only the "basic" properties (tank tier, nation, type and availability) may be used to vary the layer/effect properties; moreover, only certain layer/effect properties can be varied; most are fixed. If this proves too limiting, your only choice at the moment is to download the source code and implement what you need in C#. However, don't give up too soon; many things that may seem impossible to set up through Tank Icon Maker actually can be done. Check out the built-in styles and see how it's done there!

Further info
Please see the Tank Icon Maker website.
FAQ
My icons are mirrored!
That's right, WoT mirrors the icons by default. You have two choices: either create symmetrical icons (this means no text), or use a mod that works around this. There is a dedicated mod for this. Also, XVM is a good choice, and can either turn off the mirroring completely, or let you use one set of icons for the left side and another set of icons for the right side.

There's a tank tier overlay on my icons!
Open the game settings, the checkbox that disables this is on the first tab.

Where's the rest of the FAQ?
Please see the
Tank Icon Maker FAQ
.
Edited by Romkyns, 06 October 2019 - 07:35 PM.