A-32
Manie_de, on 08 August 2011 - 10:44 AM, said:
So the question about how much the Spall Liner will slow down the A-32 still isn't answered yet
Nope, still get 69-70 kph on a flat road. (100% crew + ventilation, spall liner & optics)
DashingBlade, on 11 September 2011 - 01:53 PM, said:
Nope, still get 69-70 kph on a flat road. (100% crew + ventilation, spall liner & optics)

Big thanks for your answer
Got a spall liner and now I call my A-32 "Ram(bo)"
Martin
exori
07 Nov 2011
interesting, i might get spall liner also.


btw, have u guys noticed how good balance this tanks get lately?
im playing it every day to double it up and so often i'm the top tank.
brad
16 Mar 2012
I love my A32. Its fast as hell. I picked it out of the pre-order packages as I felt it would end up being the most useful out of the pre-orders.
I chucked vents, camo net and periscope on mine and the crew is camo trained. I also ungoverned the engine for those hill races. I usually race somewhere and mostly start the game observing, unless I'm a large machine on the map and then I become a brawling medium.
They never saw me on that hill in Karelai
I like the fact its an uncommon tank too. As a premium it can earn a bit of cash too.
Charcharo, on 31 May 2011 - 02:55 PM, said:
Which reminds me... im very interested in a A-32 when the sell tanks feature is in-game. If someone doesnt want it or doesnt like it anymore, please keep it so that i may buy it from you
I saw in a Q&A... the tank auctions are never coming.
It's a fun tank to drive. I use it as a kind of emergency vehicle (see problems at one side of the map, I'll rush there and help out)
It's almost like the U.S. M 18 Hellcat (speed + armour, gun not so much). You can get into positions extra quick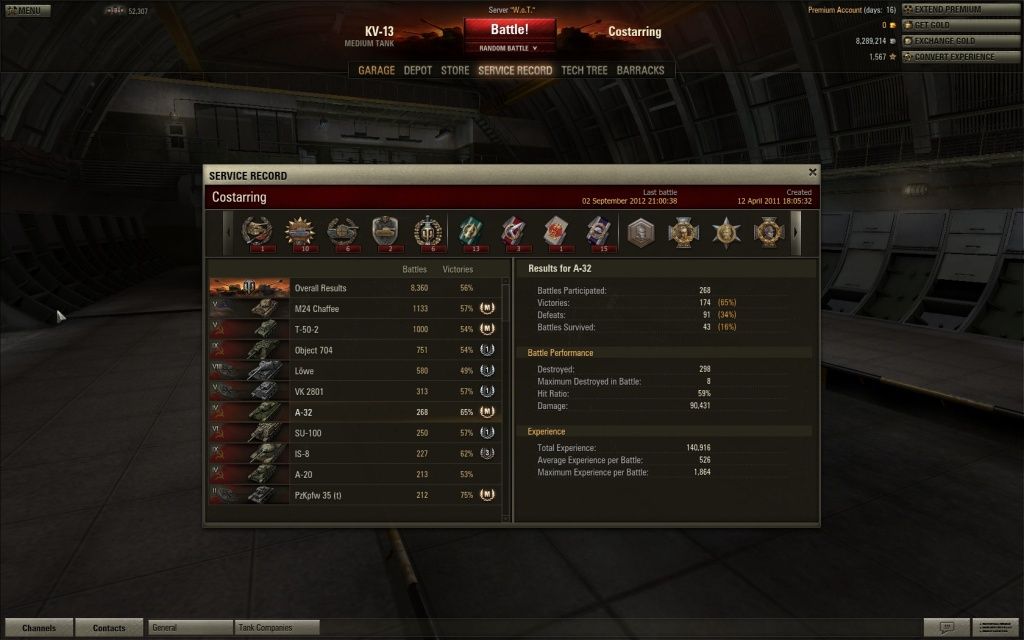 People wondering what the hell it is is fun as well.
NickD
11 Oct 2012
Strange, i play my Pz V/IV, quite a lot. Sometimes i met M6A2E1, even other Pz V/IV, but i cant saw any T-32 soon? Are they used now? Or rust and dust slowly in the garages?
I think that the a-32 is the least common of the preorder tanks remaining by a fair bit. I cant remeber the exact numbers but i think it was about 2000 a-32, 5000 pz 5/4 and 9000 duck tanks (american heavy)

i play mine for a bit of fun fairly often and celebrated my 5000th game by playing it. (was awesome, an a-20 drove into me at full speed 30 seconds inand exploded then i got artied)
Edited by pinkflamingo, 25 October 2012 - 12:04 PM.
Ah fair enough, thanks Usertmp

Last time i looked was probably in febuary or january :p

I'm sure that around that time the M6A2E1 was more common

Would anyone be up for doing some A-32 platoons? While im sure it wont be that effective i think a few matches with 3 A-32's would be fairly amusing (if only for the WTF factor)

Also whats the gold ammo for the gun looking like? that might work out nicely once 8.1 and gold ammo for credits hit..