The T1 Cunningham is an American tier 1 light tank. For many people this is the first tank they play and they have no idea how to play it. For a new player to the game once this tank is upgraded it is a very good first tank. For more experienced players though once upgraded this tank is possibly the most op tank for the tier and they can completely control the games they are in even if they are bottom tier. The secret to playing this tank is really very simple. In my opinion the way to play it is to wait for the enemy to look away or shoot then poke out and clip them. This tank is the proffered tier one of tournament play. This tank also has a rear mounted turret. That is also how you should play a lot of tanks. That really does it for my introduction to the tank lets get into more detailed parts of the tank.
Armament:  This tank has 4 guns to choose from and they are not all the same. When you first get the tank the stock gun you will get is the 37 mm Gun M1916. This gun is bad with an average damage of 30 and a pen of 28 you arent going to get much done with it. Get rid of as fast as possible. The gun I recommend using is the 20 mm Hispano-Suiza as at this tier it isn't always skill that wins the fights it is often burst and this gun has a lot of it. It has the potential to clip out any tank in the tier with the exception of the medium 1 for the British. While I recommend th 20 mm the other 2 37's are both usable but not recommended. In order to mount the 2 top guns on the list you see below you will need to get the upgraded turret.
Armor:  At this tier armor is virtually non existent but you will get the occasional bounce so I will still go over it. This tank has 10mm or armor on the whole tank so DON'T EXPECT ANY BOUNCES. A 37mm gun will x3 overmatch you. Anything the is x3 your armor is a auto pen so a 30 mm will always pen you no matter what. Although the armor isn't all bad one good this is that this is a rear mounted turret. So when poking corners you can turn around and expose very little of your tank. When playing this tank though you have to be careful because you only have 110 health. 
Speed:  This tank is very fast for the tier and is very light. With a fully upgraded engine of 132 hp and a speed limit of 41 this tank is going to get there decently fast. Even with the stock engine it has a decent acceleration. When it comes to the speed department there is nothing to worry about this tank.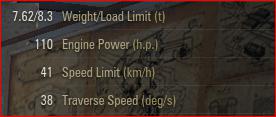 (made and error with this picture that is the stock engine showing)
Radio/View Range: The radio is nothing special but at tier 1 it doesnt matter to much as all the maps are small. This tank gets 2 different radios. The stock radio only has 90 signal range while the upgraded has 265. The view range isnt anything to brag about either. The stock turret has 240 view range while the upgraded has 280. 
Tips: This tank is very good tank and doesnt require much skill to play so at this tier you shouldnt focus on anything aside from having fun.