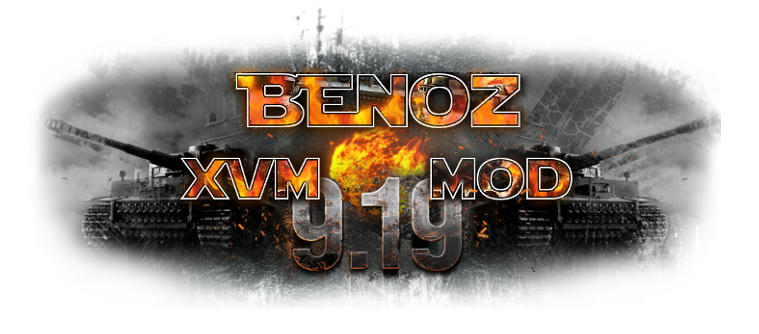 ---
>>>DOWNLOAD BENOZ'S XVM CONFIG FOR 0.9.19.0.2~8.3 MB
The XVM Config includes my Statistics Panel, Session Statistics, HP Pool Bar, Minimap, Hitlog and Dmg-log. Explanations:
- Statistics Panel:
  Enables you access to your own and other players statistics.You're able to manage your
  Efficiency-Rating, Win/Lose Ratio and your WN8 Rating. The Server Ping-status shows your ping to the current Server
---
- Session Stats:
  This feature makes your overview of your statistics for the day a lot easier. It shows your WN8, WN6 and Efficiency Rating
  from the battles played on this particular day. It gives you an overall view of your current credit income and
            exp income + Ratio. Furthermore, it shows your average wins of the day in percent and in Wins / Battles fought.
---
          - HP Pool Bar:
            With the HP Pool Bar indicator you have a nice overview about the total HP of your team and the enemy team.
            It comes with an Indicator that shows you your average damage of the current tank and an Indicator for High Caliber .
---
- Minimap:
  With the advanced minimap you can use your View- and Signal range much easier, and with the Tank Spotted Markers
  you know exactly which tank is where. With the minimap you can also find out the last known position of vanished enemy vehicles.
  With the new feature you can change the tank in postmortem mode with right-clicking it on the minimap.
---
- Hitlog:
  The Hitlog gives you a nice overview of which damage you already dealt on which tank. It also shows you your total damage dealt
  and by pressing ALT the remaining Hitpoints of enemy and ally vehicles. There's also a Ingame WN8 Meter in the optional folder.
---
- Damage Panel:
  The Damage Panel shows you a log of the damage you already received. It gives you useful information such as the enemy tank
  that shot you, which shell he used and which kind of damage you took. It also has a ALT mode and a fire alert.
---
- Sixth Sense Audio:
  A number of MP3 files are included to customize your Sixth Sense sound. Description on how to install them is in the download file.
---
Installation of the Installer is self-explanatory
Installation:
Download Benoz XVM Config and unzip the file.
Go to your World of Tanks directory and delete the res_mods folder.
Copy the res_mods folder and the mods folder from the mod and paste it into your WoT directory.
Install both the 'XVM.fnt' and 'XVMSymbol.fnt' fonts.
If you use my Damage Panel and Hitlog I highly recommend turning off the
  vanilla ones.
Optional:
To install the Colorblind version copy the res_mods folder from the Colorblind folder into your WoT directory.
To change the Damage Panel and Hitlog to the vanilla ones, copy the 'res_mods'
   folder from the 'Vanilla Damage Panel and Hitlog' folder to your WoT directory.
To install a Sixth Sense Audio file rename your desired .mp3 file to 'sixthSense' and paste it in \World_of_Tanks\res\audioww.
             Now just select Custom Sound in the World of Tanks audio settings window.
Activation:
To activate the stats, you have to log in on the official XVM Website with your Wargaming-ID and Password.
Follow the steps on the pictures below to activate your stats:
---
04/28/2017 - Version 19.0 for World of Tanks Version 9.18
added WN8 ingame meter
changed session stats to Yasen Krasen session stats (temporarely)
 
Known Bugs:
04/28/2016 Session stats don't work -> exchanged with Yasen Krasen session stats (only temporarely)
Full
---
Every Donation helps me make my mod even better
Edited by Beonz, 10 June 2017 - 10:27 AM.