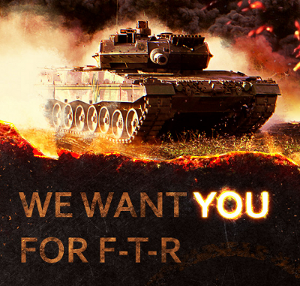 We are Feel the Rhythm

We are a bunch of experienced players from all over the world with English as the official clan language. When we are not busy conquering the world map we do several companies/skirmishes and training room excercises per week. Platoons or team battles are going on every day of course. We are looking for mature easygoing players who can offer a decent skill in game and the ability to work well as part of a team to support our activities in clan wars, tournaments and ESL.
You have to meet the following requirements:
18 years of age
able to speak English
use teamspeak
sense of humor
willingness to participate in clan activities
willingness to be part of the community
You should also meet several of these requirements:
1300 WN8 overall or
1500 WN8 in recent games
52% winrate
3 tier 10 tanks
2000 average damage in tier 10 medium tanks
2000 average damage in tier 10 heavy tanks
2000 average damage in tier 10 artillery
2100 average damage in tier 10 tank destroyers

 
Please have a look at our rules and players at the webpages below:
In order to get in touch please use the contact form on our clan website or simply talk to us in game. You are welcome to join our teamspeak server so you can get to know the crew and see if you feel at home here.
Edited by chickenwire, 04 October 2014 - 04:05 PM.