This is a modification for World of Tanks. Mod replaces the original icons of vehicles in the game. Design allows
  you to quickly analyze the composition of the teams. 
  Displays the following information: 
                      * Name
                      * Premium / Special mark 
                      * Tier number
                      * National brand
                      * Colors
                      NOTE!
                      The author is not liable for damage caused by using a modification (Wizard's Contour Icon Mod ) created by
                      Wizard or improper installation. Use of this modification and information contained herein is at your own risk!

  Mod for players using xvm!
  1) Copy the "res_mods" folder to:"...\World_of_Tanks"
  2) Rewrite all files.
  3) Set "mirroredvehicleicons: false" in your XVM config file (battle.xc)
                      4) Enjoy
  Settings > General > Show vehicle tier - (must be empty)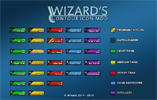 Edited by Wizard_CZE_, 24 February 2017 - 03:42 PM.