Mod replaces the original icons of vehicles in the game. Design allows you to quickly analyze
  the composition of the teams. Displays the following information: ​ tank name, premium / special mark,
  tier number, nation, class color​ . 
                      NOTE!
                      The author is not liable for damage caused by using a modification (Wizard's Icon Pack) created by Wizard
                      or improper installation. Use of this modification and informations contained herein is at your own risk! 
 

  1) Download and install the XVM.
  2) Download Wizard's Icon pack.
  3) Copy the "res_mods" folder from RAR archive to:"...\World_of_Tanks".
  4) Rewrite all files.
                      5) Set "mirroredvehicleicons: false" in your XVM config file (battle.xc)
                      6) Start game.
                      7) Go to settings > general > show vehicle tier - (must be empty).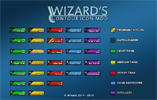 Version v3.8.0921.1A >> Version A (Arabic Tier Numbers)
  Version v3.8.0921.1R >> Version R (Roman Tier Numbers)
Edited by Wizard_CZE_, 13 December 2017 - 12:52 PM.