Smaller Icon, stats now a separate skin you can position anywhere.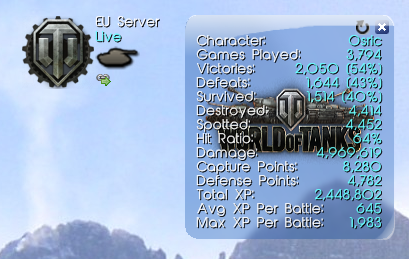 In the minimised version clicking on the:
* WoT logo toggles your statistics.
* Tank Launches the game
* Weblink icon takes you to the the WoT website
On your Stats:
* The Logo takes you to the webpage your full stats are stored.
Download
I've been using Rainmeter for long enough now to produce some of my own skins for it.  I've just finished the bones of the code so that it visits the stats page of character and captures the information.


Capture.JPG 34.62K

What you get is a desktop item which polls your stats every 30 minutes and lets you admire your tank driving skills


At this time I have done nothing regarding formatting, fonts or layouts, hence it's ugliness.  I have simply captured the information and checked that it parses correctly and the results are right & make sense.

Tomorrow I will have a look at making it more attractive to the eye and seeing about a release, tbh the graphics part I find far harder than the code...