This is WolfPack and we are here to stay.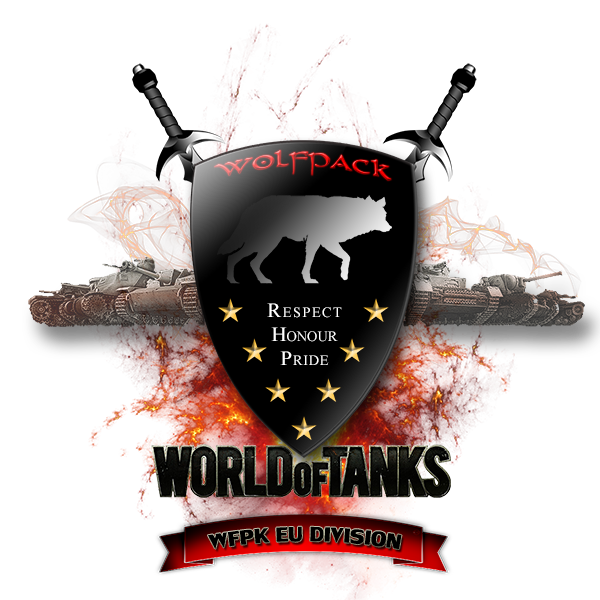 We are 15 year old plus international gaming organisation that originates from Australia with over 400 members coming from multiple countries and games that include Battlefield 4, War Thunder, Star Citizen and SWTOR!
Though WolfPack has a well established North American and South Asia presence in World of Tanks we thought it was time to build ourselves up in Europe. WolfPack Europe is fairly new however the founding members are experienced and would be happy to advise and assist new players as well take in knowledge from veterans!
You can expect a fledgeling division that has motivation to grow with dedicated members who are backed by professional organisation which has its own forum and teamspeak server as well as game servers.
We are looking forward to hear from you!
WolfPack Recruitment Brochure
So, you want to be an e-gamer? and be part of an effective on-line team?
You want the glory & recognition for the battle's you've been in?
Then WolfPack want's you!
WolfPack is a leader in e-gaming; we have the team, resources & motivation to propel you to the next level of gaming.
We have a ranking system that will give you e-rewards for your efforts & involvement within WolfPack, not only for in-game contributions, but also for your contributions to the Clan.
We want you to be involved, to what level of involvement is entirely up to you & your Rank within the Clan will be in conjunction with your involvement & effort.
We have seasoned e-gamers & experienced people in the Clan that can help you in a multitude of ways, not only with your on-line gaming needs but also in real life.
If you need to up-skill on your on-line tactics & teamwork, we can help with weekly training sessions.
If you have ambitions to lead a squad in any of the FPS games, show us you have the gumption to do so, prove your worth & we will give you a shot.
If you need to upgrade your PC, we can give you advice on what you need to ensure smooth gaming.
We are an ever evolving Clan that has been around for over 10 years. We have seen them come & go, & we have risen from the ashes time & time again. Your on-line gaming future will be in good hands.
So, what does WolfPack want from you?
We ask that you respect & honour the WolfPack rules, terms & conditions.
We ask that you respect & listen to your C.O's (Commanding Officers).
We ask that you show respect to not only your fellow WolfPack members, but also to the entire on-line gaming community.
We ask that if you can contribute to WolfPack in any form, let your C.O's know what you can do & how you want to contribute.
We do not ask for money or for more of your valuable time than you can offer.
Stand by us in battle & know you will have all of WolfPack behind you. We will stand by your side, win, lose or draw.
If you are interested in becoming a most valued member of this great clan, please visit the Recruitment Board & post your application. After that, our Recruitment division leader Hunter will get back to you ASAP & advise of any further requirements.
There is a few Conditions that are required to be met upon your application.

(1) Must be able to speak English.
(2) Must be over the age of 16.
(3) Must have a microphone,to interact with other members on TS.
(4) Must have a mature attitude.
(5) Must be ACTIVE

If you think you can tick all those requirements,then head to WolfPacks forums and follow these easy steps.

* Register with the WOLFPACK forum
* Head to the RECRUITMENT THREAD
* Start a NEW TOPIC

and copy paste this application into the post and fill in the answers where the spaces are.

Please title your application: "Application For (yournamehere)"

1. State which gaming division of WolfPack you are joining:
2. Your Game Handle (In-game name):
3. How old you are?
4. What country are you from? What country are you playing from?
5. Why do you want to be in the clan?
6. Are you currently in another clan? And what other clans have you been in (If any)?:
7. Whether you have a microphone, and if so whether you have team speak? (see step 3 for help with TeamSpeak)
8. Is this your first time applying to WolfPack?
9. How did you find out about the clan? If someone told you, do you remember their alias?
10. Do you accept the clan rules and agree to abide by all of them?
11. Is there anything else you wish to say?
Our Details Below:
Website: http://wolfpack.net.au/
Forums: http://wolfpack.net.au/Forums/
Team Speak Server: 43.245.162.15:10004
P.S If you have any questions you want to be answered quickly you can asked myself(brocj038) or Texenon(emerald_dreamer) on Skype.
Edited by La_Lafayette, 09 February 2015 - 10:56 AM.