Salutations!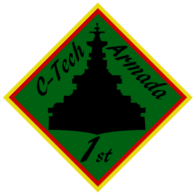 The Royal C-Tech 1st Armada were only recently created, and we are partnered to the clan C-Tech.
The difference?
We'll be playing a lot more WoWS than them, when that gets released.
(And we're more awesome)
The Armada is currently on the look out for both senior staff and new recruits. We are currently able to participate in platoons and unranked team battles.
Q & A
You only have a few members? - We just started. And not only are members already on the way (many waiting for clan action bans to lift), but we share TS facilities with C-Tech, so members are free to mingle and play together. We often play team battles alongside them.
Can you transfer to C-Tech, the mainly WoT clan, and back? - Yes, members are free to transfer across at any time.
You just started, do you require more senior staff to operate? - No. Although more would be appreciated, we have plenty of experienced members here or on the way, and we can always call upon the expertise of C-Tech senior leadership if we need to.
What are the minimal requirements? - Team Speak 3. (Mic not required but desirable). A tier 6 tank or higher (to show you have some commitment to the game). There are no minimal skill requirements at the moment, but we won't accept any unfriendly conduct.
To apply: Send me (Abolisher) a message in-game or on the forums.
To ask questions or make suggestions: Send me a message on the forums.
Thank you for taking the time to read this. Good luck on the battlefield.
PS. Bonus points to thou who recognizes the 3 ships on this page: The clan logo (top right), my avatar (top left), and my signature (bottom)
Edited by Abolisher, 16 May 2015 - 09:59 PM.