Hi!
I've created a small program that can be used to estimate the armour penetration values of different projectiles and the effective armour thicknesses of different armour configurations. Note that I'm not a very experienced coder so the program is very simple looking and working and it's not very graphical (screenshot below). However, it gets the job done. My idea for the program is to expand it little by little and create an interesting tool for people who are interested in tanks and armour and etc. 
The calculations mechanics are derived from my Bachelor's Thesis on the subject. Note that this is not a tool for calculating situations in World of Tanks but real life estimates.
At it's current version, you can only calculate the effective thickness of a sloped armour for different ammo types. I hope that you folks could try it out and give some feedback and maybe give ideas on what features you'd like to get added in. 
Screenshot: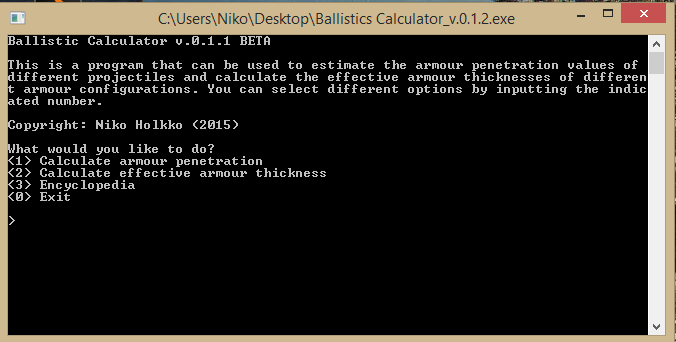 Changelog:
Download:
http://www.mediafire.com/download/opm74ak2hxavbsp/Ballistics_Calculator_v.0.1.2.exe
Yes, I know. Giving a download link to a random .exe file look fishy but you know my real name for heaven's sake 
Edited by Kalkalash, 13 June 2015 - 10:39 AM.