Hello Tankers!



The competition is open for all fans of cats ( Felis silvestris catus ) . Below you will find all the necessary information and pictures of the main prize – a Cat House for your cat - The Cat-Maus .
Prizes:
I place: Cattree: Cat-Maus + 500 golds
II place: 500 golds
III place: 285 golds
Rules:
1. Contest's work:
Main Theme: Cat + Maus (remember that "maus" means an animal too)
Type: Artistic
Method: Free, here you are some examples:
*you can take a screen inside the game and modificate it using photoshop
*sketch, draw or paint on paper
*do funny gif or demotivator (http://diy.despair.com)
*be director, use bombaytv films and make your own video  http://www.grapheine.com/bombaytv/
*or whatever else, the sky is the limit !
2. Visity my fanpage and answer via e-mail: What kind of cat breed can you see in the picture?
https://www.facebook...?type=1
3. Take a photo your cat with small sheet of paper with your nickname from WOT. It is not a pitty, If you do not have a cat, take a photo your friend's cat. You will win and make a huge present your friend and you keep gold. Finally you can donate Cat-Maus to an animal shelter in your local area or I can do it for you, here in Poland.
4. Send your work (points 1 + 2 +3) on e-mail: contest@icatius.pl until 2nd August 23:59 CEST
5. Dispatching of Cattree: Whole European Union – Actually Greece too.
Some my examples from diy.despair i grapheine:
Video:
http://www.grapheine.com/bombaytv/agence-pl-e62e63d996874c7c0e4beb007a676a79.html
Demotivator: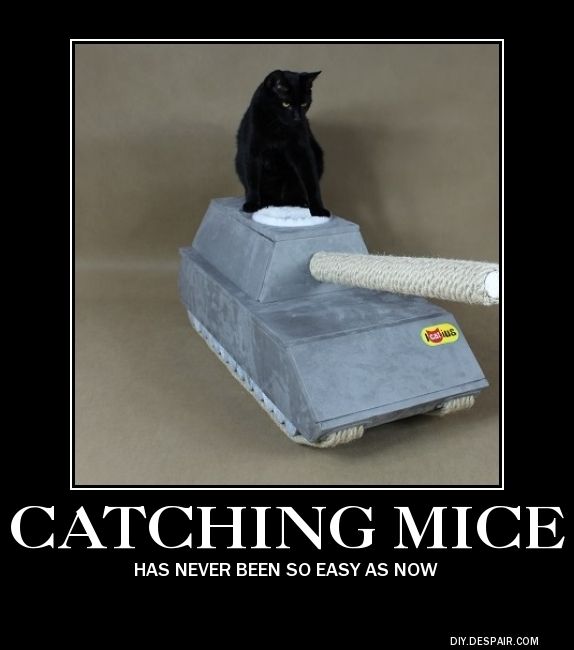 ---
Finally presentation of Cat-Maus
Cat-Maus topic on forum:
http://forum.worldoftanks.eu/index.php?/topic/508346-cattreecat-house-which-imitates-a-tank/
Good Luck !
BTW. Somebody who knows German or Czech language and wants help me translating above contest, give me a buzz via PM.