I wanted to get the data of all players with 3 Marks of Excellence (MoE) and some related info, I couldn't really find any existing stuff so I wrote a program and spammed the WG API with millions of requests and put the data in a nice spreadsheet.
► SPREADSHEET EU Tanks◄► SPREADSHEET EU Players & Clans◄► SPREADSHEET CHANGES EU #13 → #14◄
► SPREADSHEET RU Tanks◄ ► SPREADSHEET RU Players & Clans◄► SPREADSHEET CHANGES RU #1 → #2◄
► SPREADSHEET NA◄► SPREADSHEET CHANGES NA #9 → #10◄ 
► SPREADSHEET ASIA◄► SPREADSHEET CHANGES ASIA #7 → #8◄
The spreadsheets for EU and RU are split into 2 parts (one with only Marks on Tanks and the other one with the rest). In addition to that, I cannot have a hyperlink for every player in the first spreadsheet because of spreadsheet limitations.
Last Updates
EU: #14: 11.03.2017
RU: #2: 11.11.2016
NA: #10: 22.03.2017
ASIA: #8: 20.10.2016
You can filter or sort the data using the following button:
If you want to edit the spreadsheets and/or work more comfortably with them, you can download the files via File > Download as > Microsoft Excel (.xlsx)
THE RATING
Each 3 MoE on a tank is worth a certain amount of points depending on the tier and tank type of the tank and the amount of players with 3 MoE on it (indicator for the difficulty). The rating of a player is the sum of points for each tank he 3-marked, rounded down to the nearest integer. The rating of a clan is the sum of the rating of its players. 
Keep in mind that this (currently) just me playing around with some numbers because it seemed like a fun thing to do.
Formulas: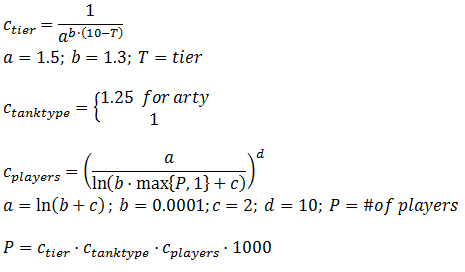 Tank & Type %
This is the ratio of all generally available tanks (no premium or reward tanks, still researchable, at least 1 player with 3 MoE on it) per tier or tank type to the maximum possible amount. The latter is listed in the MoE Distribution spreadsheet.
Conclusions so far
I'm too lazy to update these all the time.
IDEAL has once again been confirmed as subklanu of S3AL, they don't even have 60% of our amount of MoE 
There are actually 3 guys with 3 MoE on the CGC. 
Want to check your current MoE status and don't want to wait for the next update?
You can use my WN8 Changes Tool. In addition to showing changes in WN8 ratings due to expected values changes, it also shows you how many 3/2/1 Marks of Excellence you have.
A couple of notes regarding the data
I got the initial IDs from xvm dev seriych upon my request.
As I now have access to a server, I'm checking each possible ID of a server for a valid account (played at least one battle after the introduction of the MoE), so every accounts gets checked.
I do have some data for 2 MoE as well, but "you basically get them for playing 100 games on a tank"1 so I decided to not publish them
I did not collect the data for 1 MoE

For the spreadsheet to be viewable in google docs I had to dismiss any player or clan with less than a certain amount of MoE (marked by (X+) in the worksheet names). I do have a complete spreadsheet with them that I can upload

if anyone is interested. I also cannot list every player with 3 MoE on a tank for each server due to limitations of google drive.

It takes a long time to completely update the data due to restraints of the WG API

I'm currently thinking about how to update the data about once a week in an effective manner
Sources/References
Edited by Aim_Drol, 25 March 2017 - 03:20 AM.