The Inquisitors [I-N-Q] are recruiting!
The Inquisitors is an English speaking clan full of fun people from all over Europe. Our players range from 900 to 2100 WN8, with a clan average of 1200. Currently, we are focusing on platooning and playing skirmishes at tiers VI and VIII. We also plan to expand our operations into stronghold attack/defence and clan wars once we grow in numbers. 
We have our own Teamspeak server and forum and we hold monthly clan meetings on Teamspeak so that people can catch up with what's happening. We also have a voting system where people can vote the month's biggest contributor, who can then win prizes, such as tanks or sex toys gold.
Also, making snarky comments when we beat your behind is our trade:



Making you rage is another one of our skills: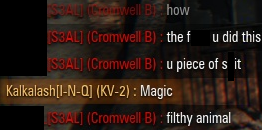 I guess not everyone likes a KV-2 in the face 
Now, what we want from you is:
- WN8 of at least 1000
- At least 2500 battles
- Ability to speak English
- Having a microphone is preferred but not mandatory
- Activity in clan battles
- A sense of humour and a good attitude
- At least
one 

tank suitable for tier VI skirmish

one tank suitable for tier VIII skirmish
Did we get you interested? Do you fill our requirements? Go ahead and apply on:
http://eu.wargaming.net/clans/500065692/
If you wish to know more, you can contact our recruitment officers:
Kalkalash
snake_storm
Are you a representative of a smaller clan and finding it hard find new members? Contact us and you could be blended into our clan. You really should, as no one expects the Spanish Inq...I mean...it's fun and stuff.
See you on the battlefield, tankers 
Kalkalash
Clan commander
Edited by Kalkalash, 02 December 2015 - 05:25 PM.