Recruitment is: Limited
Also currently Nr.1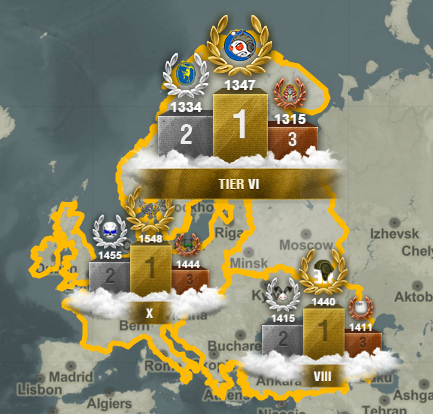 Welcome to Reddit Recruitment!!
Who are we?
We are the main RDDT clan wars clan on the EU server, with a large international community
As a clan, we have a long, successful history in clan wars and campaigns
We have a great community of people from all over Europe, that has been active since 2011
Average WN8: 1889
What should you expect as a RDDT member?
Clan Wars every day of the week and Clan campaigns
Stronghold battles almost every night (T6,T8,T10) so great for grinding tanks
Lots of opportunities for platoons with other members of the RDDT community
Fun social nights with other RDDT clans
A laid back environment without the super serious attitude of the biggest clans
Our terms of recruitment:
Recent WN8 of 2100+, 52% min. WR and 1600 min. wn8 (Special Circumstances may be considered if the advised overall WN8/WR is not met)
Six core cw viable tanks. 2 of each tier

Tier 6: Cromwell, T37, KV85, T150.
Tier 8: IS3, T32, T54 lwt, RU 251.
Tier 10: Object 140, E100, IS7

Be an active and friendly member of the community
TeamSpeak 3 and a working microphone.
Good grasp of spoken and written English + the ability to understand a joke
18+, with a reasonable level of maturity, and willingness to play as part of a team.
Desire to actively participate in clan activities and help improve the clan.
All applications are judged on a case to case basis, so you may not have met these conditions entirely
If you meet the requirements, apply on the 
Application subreddit
 and await a response on reddit
For any questions, please contact myself Whackett on reddit or in game
Edited by Whackett, 29 March 2016 - 10:06 PM.