HeY!!! HeY!!! All of You Tankers Who Love to feel challenge,Pain and Blood on your own Skin Here come's the Tank that will shake your body and upset your brain here come's the every Masochist "Tankers" Dream, feel The real Challenge,feel the real pain,taste the blood inside of your turret!!!Here come's The Vk4502(P) Ausf.A!!!!
Yes My friend's I am the one of this ppl. who want's to feel all of this things i am the real crazy "Masochist" behind the "wheel"of this low thick Monster.What can i said I love the real Challenge and this tank can give you that and much more but first get yourself a bunch of tranquilizers maybe a good bottle of Vodka and something to smoke...Here we go, when you open Ausf A you will not be able to mount better gun on it till you grind first 14650 points for better suspension,with stock '88 gun you will be a Big moving "Duck" in many battles things will not improve that much even with better suspension but at least you can mount finnaly KwK 43 L/71 on it and try to be deadly Fatty sniper from long distance.You don't need to grind for better turret if you decide to have a "Stronger" gun but my advice in this case is forget about it because that 10,5cm KwK 45 is the waste of time in most of the situation you can have on the battlefield.Armour on Ausf A is not bad but considering that you are heavy Tier 8 Tank is not good eaither,frontal hull is 120mm and sloopy angle is solid, side and rear hull are 80mm, and big size of this Tank will make you an easy target for enemy's sniper tanks.better turret have frontal of 185mm with 80mm/80mm side&rear, and yes that turret have better frontal protection but you will lost a turret speed soon as you mount it from 38deg/sec on only 28deg/sec...Maneuvering on Ausf A is Good but with that many weak spots that this Tank have it must be better and "Devs" should consider this as my suggestion, I will be more than happy if they decide to Give this Tank better Maneuvering&speed and one more option for Sniper gun maybe something like:"KwK 46 L/100"From E-50 in that case Ausf A can find himself like a Good hybrid Heavy-Medium Sniper Tank in WoT otherwise till that happend All of you "Real" Tankers nerds jump inside of this "Masochistic Beauty" and Show us your Real skills!!!!
Tricks&Tips:
Good Tricks:"Good View Range,good Maneuvering and good old '88 in Good Tankers hands can be a Good Support from distance,Heavy tank that can mount Vert.Stabilazer "
Bad Tips:"2 Many of them"
Goliat Stress Test /VK 4502(P) Ausf A/:
Gun Fire Power 6,6/10
Gun Precision&speed 7,4/10
Tank Speed 7,0/10
Tank maneuvering 7,2/10
Armour 6,9/10
Fear Factor 5,1/10(You can suprise some of the enemies with big size of this Tank)
Overall:--------6,7/10--------Good-Average Tank,Good As Sniper&Support but very difficult to fight agains other heavy's.
0-2(Disaster Tank);2-5(Mediocre Tank);5-7(Average Tank);7-8,5(Really Good Tank);8,5-10(Excellent Tank)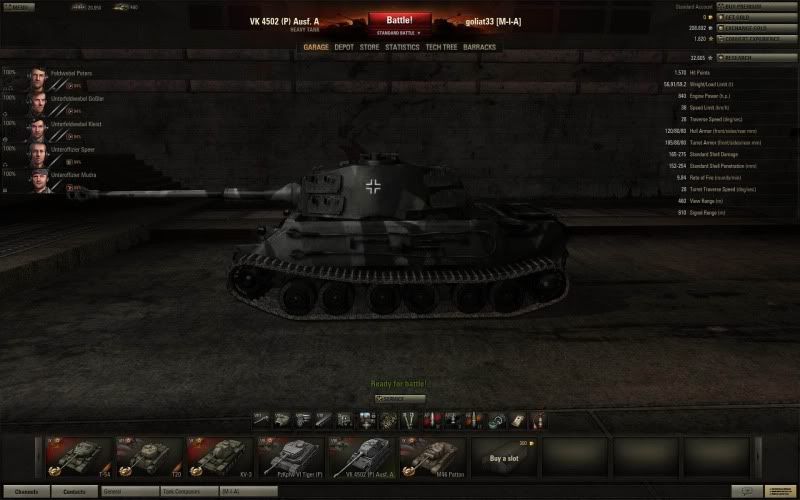 Historical Info:
The initial concept work for the new Panzer started on the 23rd March 1942 and initially it was proposed that the chassis design for the VK4502 could be adopted from the VK4501 with very little modification aside from that needed to fit the new turret and ammunition stowage. But as time went on, views on what was needed on future battle fields caused significant changes to be initiated in armour protection for the tank and it was not until late may early July 1942 that the hull design was finalised.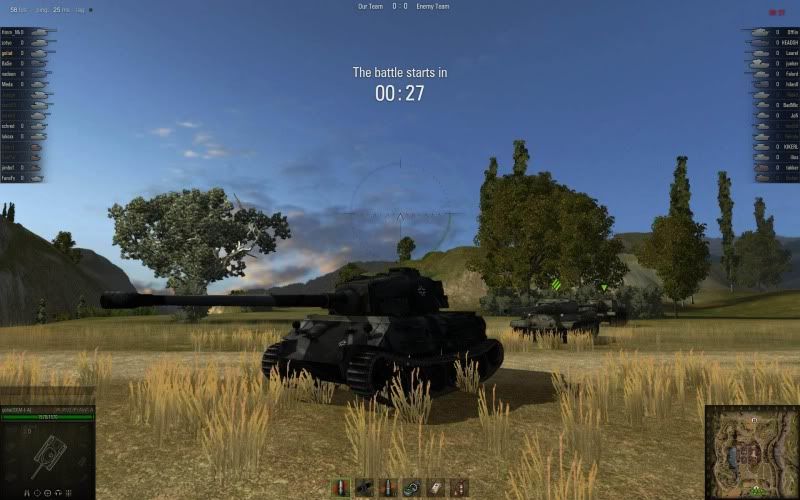 The turret for the VK4502 was also designed by professor Porsche and would mount the 8.8cm Kw.K. L/71. 68 rounds for this gun were carried in the tank 42 in horizontal panniers along the superstructure sides, 10 horizontally on the floor and 16 rounds stored horizontally in the turret.
Production contracts for manufacture were given to Fried.Kruppe AG Essen on the 4th of February 1942 for 100 VK4502 armour shells along with 100 turret shells. The armour hulls were to be delivered to the Nibelungwerk GmbH, St. Valentin for assembly and the turrets to Fried.Kruppe AG Ruhr for assembly.
Other goliat Articles:
Tiger P
,
T-54
,
M46 Patton
,
T20
Goliat