Hello fellow Tanker, we want YOU for CDS!
Just like you, we from CDS, which stands for Communist Dolphin Squad (Because Dolphins are epic, especially the Soviet ones!), love playing World of Tanks, but also want to do it with other people!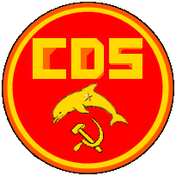 What do we have to offer?
For you we have a clan setup to have fun in, and become better at WoT by playing together. We are hoping to soon start playing tier 6 Clan Wars, and regular skirmishes.
Our future goals
With CDS we, the officers of CDS, have no concrete plans yet, although our idea is to set a fun clan up so we can enjoy the game go do Clan Wars.
We also would like to do Fun cups (Super 6, Easy 8) for the fun, since we got our experience with those and want to keep doing those whenever possible.
Requirements
In order to join us, we have a few easy-to-achieve requirements for you.
First off we want you to have played 3000 games. We would like you to have 1000 WN8 and a 50% winrate (>49) as a minimum, which can be found at www.wotlabs.net
You need to be able to speak decent English, and have the ability to talk to us via Discord.
To apply, https://docs.google....AAdW6A/viewform
Meet the officers
With this crew we have a fine combination of experience in the game itself, and experience with clan wars, given 2 of our 4 officers have played long term Clan Wars, both having received a clan wars reward tank.
This line-up will guarantee a warm welcome for any new player, or even old-time WoT veterans getting back to the game.
Me as Commander, I have had experience leading a relatively big clan before, and I learnt a lot from my mistakes. The four of us generally make joint decisions, and often with the rest of the players aswell, to provide the member-friendliest environment.
Hopefully we have convinced you, reader, to join the team, and we are looking forward to you joining us in battle!
http://eu.wargaming....lans/500051279/
http://eu.wargaming....lans/500051279/
http://eu.wargaming....lans/500051279/
Edited by San4311, 05 April 2016 - 12:40 PM.