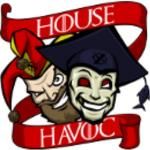 [H2VOC] HaVoC2
Cry Havoc, and let slip the dogs of war!!!
H2VOK are  RECRUITING
H2VOC are a sub clan of the  HOUSE HAVOC Gaming Community.
If you are looking to join a clan to learn, to enjoy, to interact, to make friends, then this is the clan for you!
We do not have any requirements in relation to Win8, number of games, stats of any kind. We only ask that you are over 16 years of age and be on our teamspeak server whilst playing.
We are looking to recruit team based social players!!
We are a friendly social multinational English Speaking clan, we are purely social and play the game entirely for fun our Team Speak server is never short of hilarious laughter, we take part in team battles, skirmishes, starting with advances and have a variety of events organised for our members, come join us and join in!
Team battles/Skirmishes happening every Monday, Tuesday, Thursday & Saturday
Clan Training Wednesday's (often team battles/skirmishes follow training)
Friday night free play (we do whatever our members want to do)
"Sunday Funday" with Mad Max
Our Only Requirements:
English speaking with a sense of humour and be 16 years of age or older
Use of Teamspeak, setup to be able to communicate by voice chat.
Use TS when logged in to world of tanks and interact with your teammates.
Adhere to our community rules
 
H2VOC is a great clan and an amazing part of this community I sincerely urge that if you want to take your gaming experience to the next level and play your games whilst having a laugh to apply to H2VOC and one of our officers will contact you.  Alternatively, come to our Teamspeak Channel  (178.32.223.97:12497) and ask to speak with an officer in Havoc 2 and we will hopefully answer any questions that you may have.