Okay.
I just had a bad game. But don't we all?
However this game is symptomatic of a lot of games I've been having in the past few weeks.
Gold Spam. 
I can't play my E-100 because whenever I do, people just load "Skill" when I outplay them by angling.
I can't really enjoy playing anything else because although I can accept spam at a well played E-100.
Gold spam at a 50B..................................................................... That's just stupid.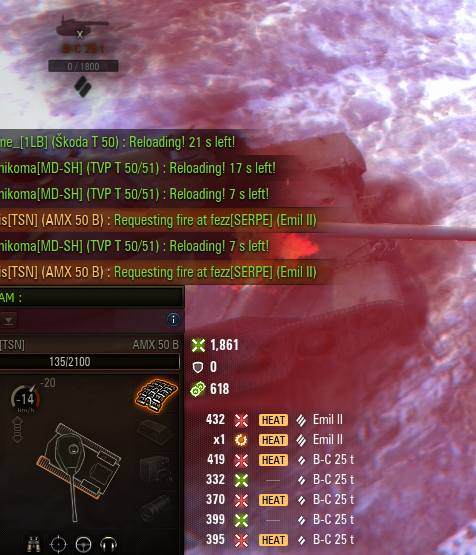 And it's not just my 50B. It's every single tank; some of the time I'll be minding my own business, having the ups and downs of a day of WoT, and sure there are some strong tanks out there, perhaps even some OP ones, and if I get penetrated by a TD with 300mm of pen when his RNG gods bless him and guide his shells right at that 2mm gap where my armour isn't an autobounce zone sure I'll grumble.
But then there is crap like this. People just running around spamming nothing but gold.
They just load gold, and blat away at anything that appears in front of them with no downsides.
I hate using gold, I utterly loathe the stuff, the only time I will ever load gold in WoT is if I am face to Face with a type-4/5 heavy front on, and that's because I loathe overbuffed potato machines more than I loathe the concept of using gold rounds.
What makes it worse is that they spam when they don't even need to just because they can and it makes the game 20x easier. I don't know how many times I've outplayed people just for them to load up some gold and derp it straight through. 
"BUT IT DOESN'T GO THROUGH TRACKS AND SPACED ARMOUR!" 
Oh really?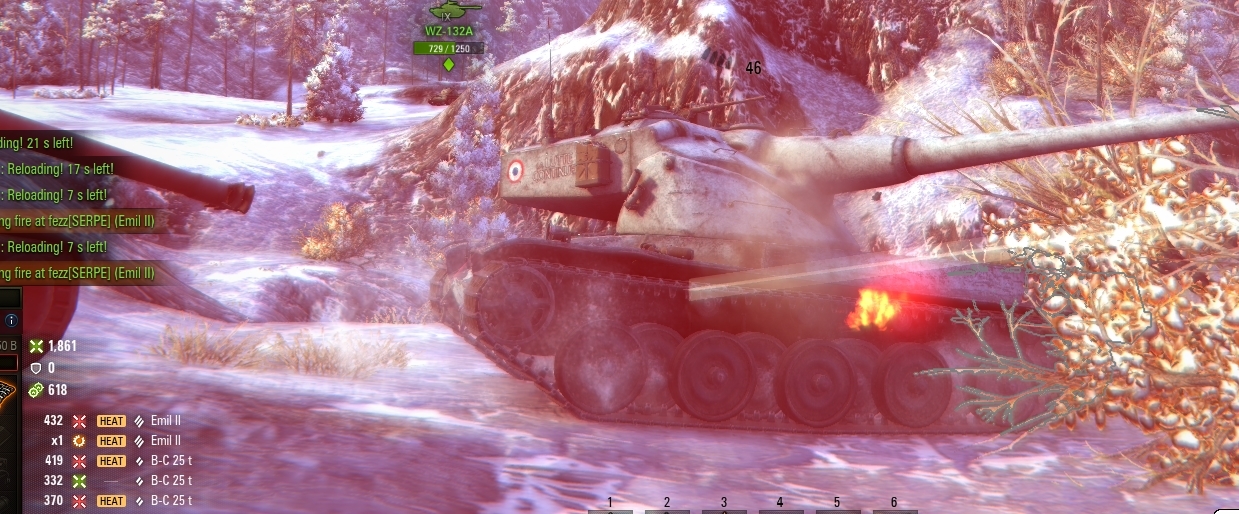 Yes it does.
I watched this back very closely because I thought that the BC was derping shots through my tracks. But credit where credit is due, they were all hitting the strip of my hull just above the tracks, but this Emil II shot just derped straight through the tracks, which should be spaced armour and therefore neutralising the very thing that makes HEAT penetrate.
On top of it being galling that they loaded gold for a 50B, it's galling that even when HEAT meets its supposed counter it doesn't care. 
I don't know how many times in the past week I've hit the flat side of a tank (Mostly russians if I'm being honest) with regular AP and the tracks eat it. I can almost hear the "XAXAXAXAXAAA! WORKING AS INTENDED!" then and I certainly heard it in the middle distance whilst I was watching this Emil spam HEAT through my tracks. 
Something really needs to be done about this. It's getting more and more frequent in my experience, I don't know if it's because I've gotten better at the game in the past few months and I'm being matched against people with higher stats, but the amount of pure gold spam is getting really stupid.
And it always happens to be "good" players.
Like I watch Quickybaby frequently and I acknowledge that he's a good player, but whenever I am watching and he gets himself into a stupid situation, or he gets caught out or outplayed by someone I always think "Oop, QBs going to dip into his "Skill" rounds", and without fail out comes the gold and QB gets away with it, talking about how he "Outplayed" that enemy.
It really sickens me that even with tanks with 0 armour or glaring weakspots the size of Americans people just load gold and don't even have to aim to get results.....
Something needs to be done to gold to make it less of a "I can spam this thing because I can" and turn it into something occasional for when you really need it. Something like reduced damage, you don't do as much damage with your gold rounds, but they have high penetration meaning you can spam them, but they won't have as big an effect I.E. you can fire them but the majority of the time it's more worth it to fire regular AP/APCR, and then the only time you'd load gold is when you absolutely cannot do anything with your standard rounds. 
Anyway. If you are interested here's the replay, it's nothing spectacular, just lag, gold spam, and a map where I don't really like any french heavy on and since it doesn't come up that often the only place that works for me seems to be the flank I was on. 
http://wotreplays.co...bindis-amx_50_b