Just to highlight where you want to be, if you want to be in the best position to take advantage of all the upcoming Russian tank changes coming in patch 9.22 -
Obj. 430 bought and in garage.  This will give you the new Obj. 430U AND the re-balanced for tier 9 Obj. 430. Basically 2 tanks for 1. 
Obj. 430 v2 accumulating XP. (should lead to a new tier 10, not confirmed yet). This is not a priority as the tier 10 for this will come at a later date. 
T-10 in garage and accumulating XP.  This will give you the T-10 AND the new Obj. 257 which is the new tank that will lead to the IS7. Basically 2 tanks for 1. 
IS accumulating XP. (will lead to the IS-M, the new rear turreted tier 8 heavy and then to the Obj. 705 and Obj. 705A, rear turreted tier 9 and 10 heavy tanks) 
IS3 accumulating XP if you don't already have an IS7, as this will give you access to the replacement for the T-10 in the IS7 line, the Obj. 257. If you have an IS7 then presumably the 257 will automatically unlocked. 
Obj. 263 bought and in garage, which will get down tiered and then give you the Obj. 268 v4 AND the rebalanced for tier 9 Obj. 263, again 2 tanks for 1. 
Currently people with both the SU-122-54 and the Obj. 263 in their garage will need to sell the SU-122-54 as this is being removed and replaced with the Obj. 263 and there currently seems to be no compensation for this. 
largely based on this leaked now official tech tree -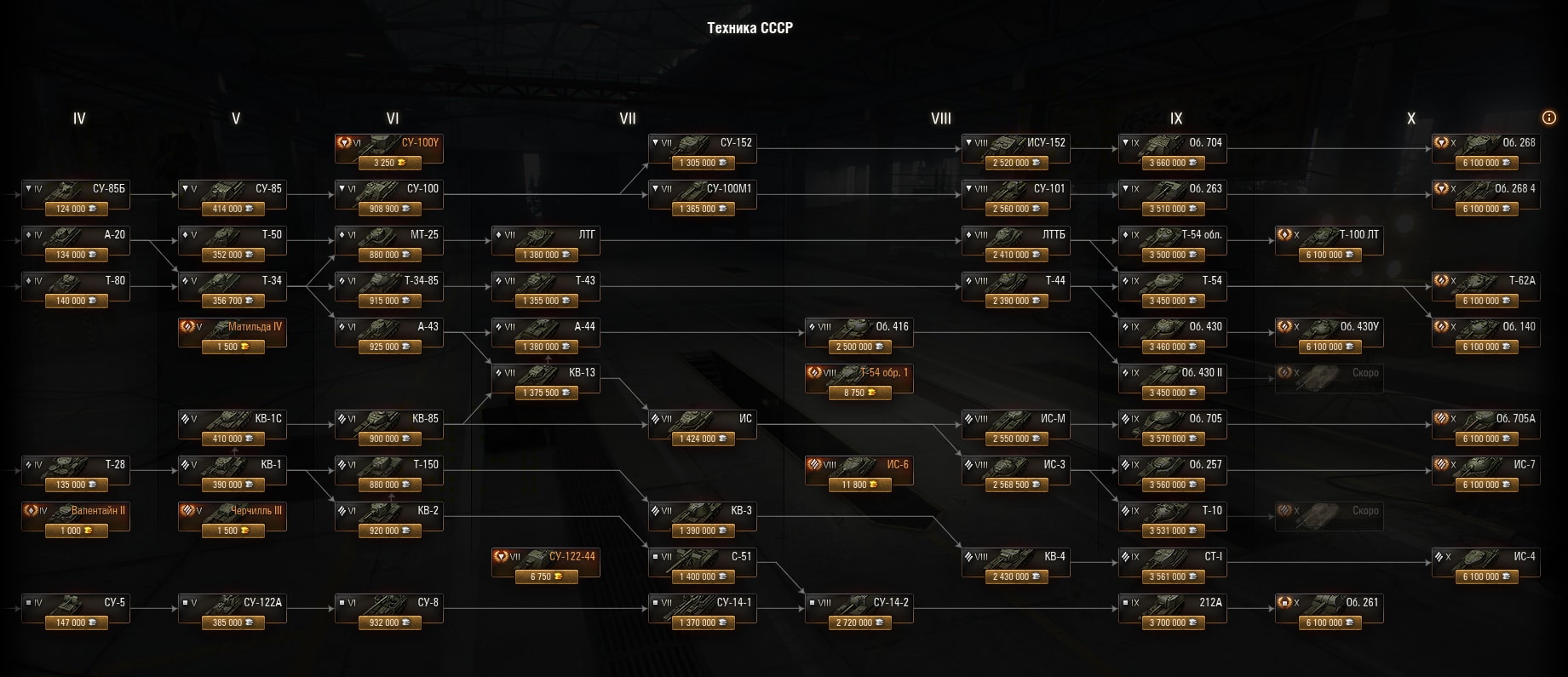 Good time to re-buy tanks as we have the Xmas discounts still and grind tanks with the decoration bonuses as we still have till the 15th with those for extra XP and credits. 
Personally I have an IS7, re-bought the T-10 using my tier 9 discount (just because I wanted to play it more than anything) but I'm only on the 416 at the moment and quite far off on the TDs. 
Basically owning the T-10, Obj. 263 and Obj. 430 currently will give you 3 'free' tier 9 tanks. 
EDIT: We now have more official information here - https://worldoftanks.eu/en/news/general-news/922-ussr-tree-revision/
For the replaced/moved tanks -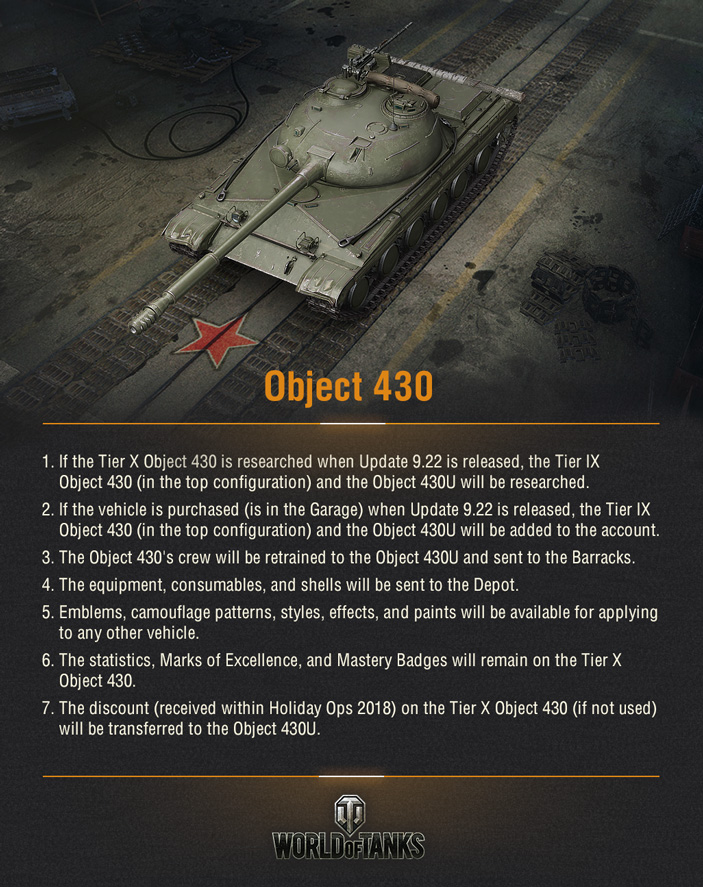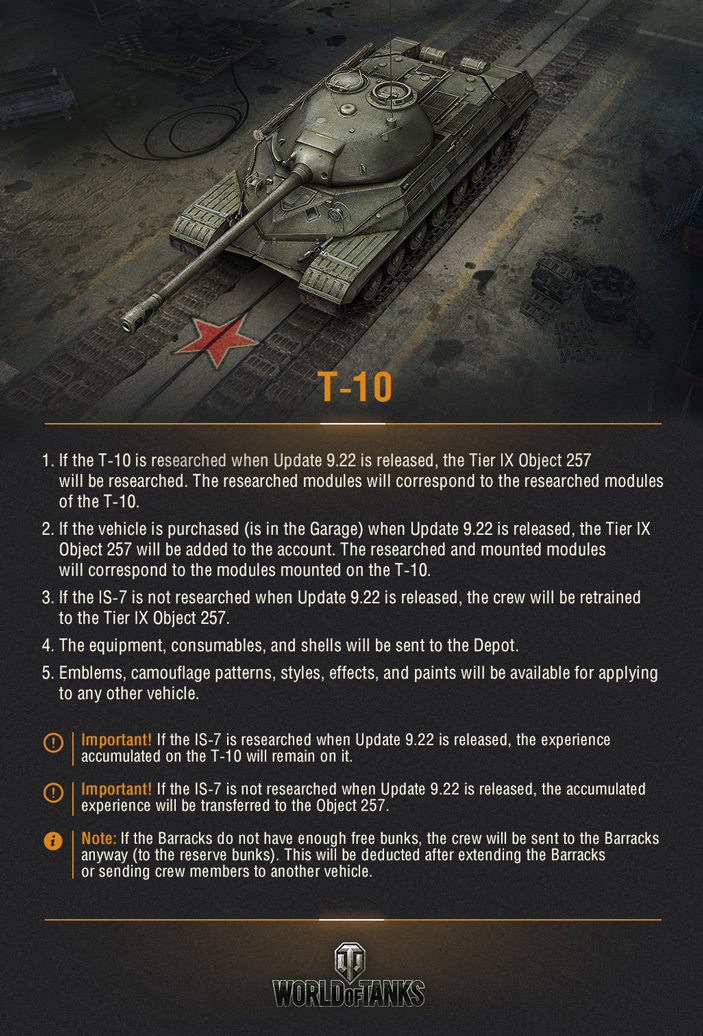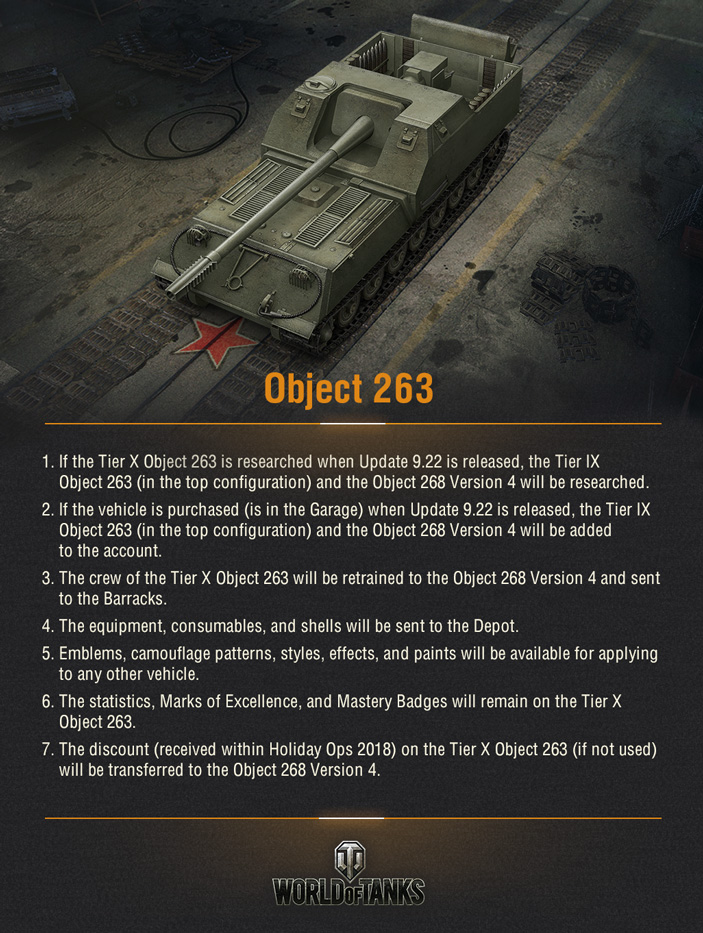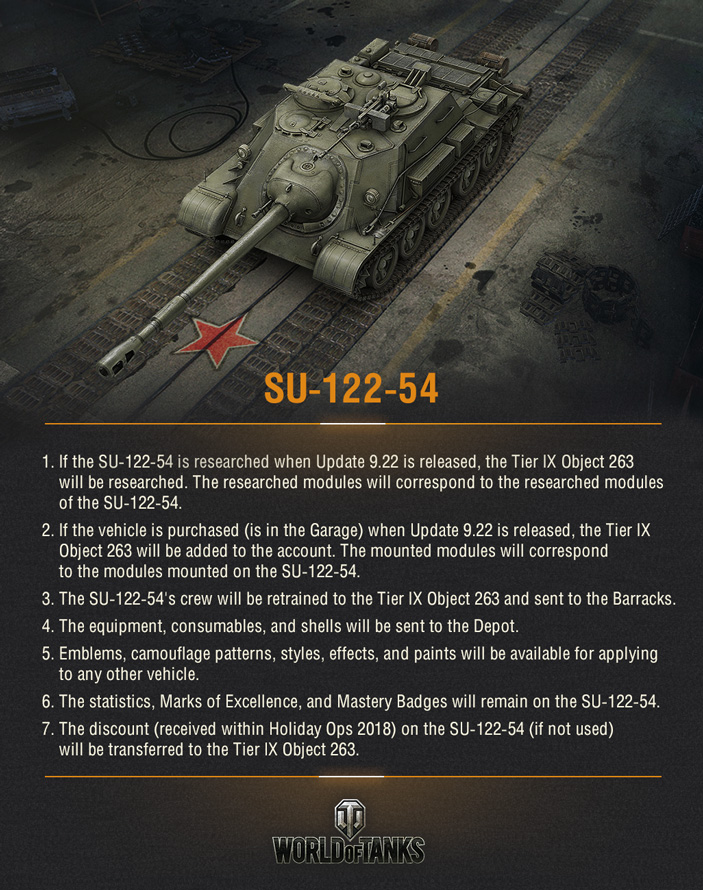 The tier 10s that will lead from the moved Obj. 430 v2 and the T-10 will come in a later patch. 
Edited by tajj7, 12 January 2018 - 10:34 AM.