Hi there.
Have been researching some Cold War British tank projects recently and came across three proposed Self-Propelled Anti Tank Guns (Tank Destroyers), known as the FV3807 ,FV3808 and FV3809.
Being members of the FV3800 series, all three vehicles are based off of the A41 Centurion components, similar to that of the FV3805 (Which is in WoT).
-FV3807 used the Conqueror's 120mm L1 gun in an SP AT mount. It apparently made it to mock-up stage.
-FV3808 is described as a medium SP mounting (Suggesting it was supposed to mount the 120mm L1 gun similar to how the FV205 is also described as a 'Medium SP AT' ).
-FV3809 was planned to mount a 155mm gun due to the new NATO standardisation.
I'm wondering if there are any images of drawings or mock-ups of these vehicles because I can't for the love of me find any online.
Any photos or extra information about these projects would be greatly appreciated.
And for the record; This (Below) is NOT the FV3807. It is the Chieftain Concept Test Rig (CTR) also known as the JagdChieftain designed by British and German engineers in 1972. It uses Chobham armour and is based on the Chieftain hull, which replaced the Centurion so please don't get them confused.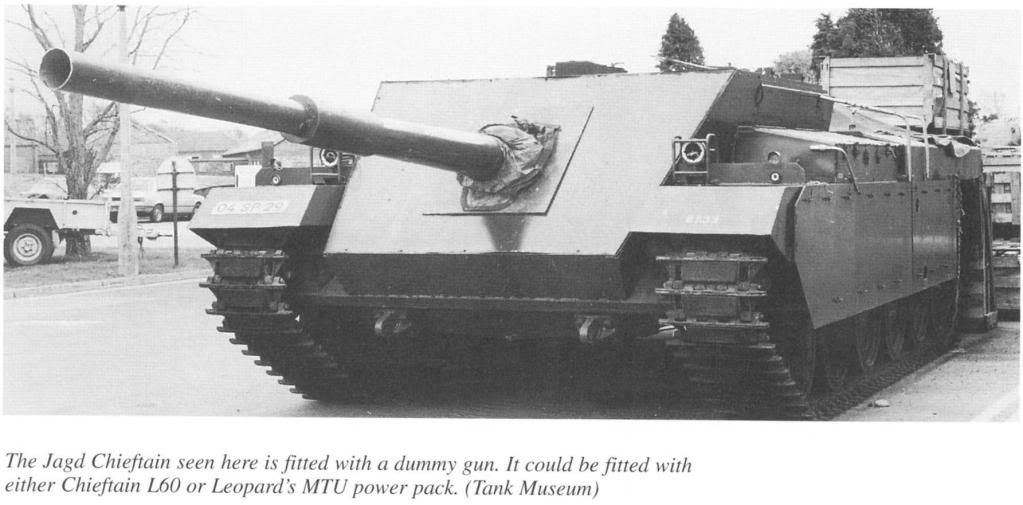 Thanks
Edited by Tarix819, 16 February 2018 - 06:50 PM.