Hi,
since many people complain about gold usage in ranked battles I figured I simply use tanks that dont rely on armour to avoid frustration.
Sorry for ze German screenshots, but I guess you know how to read these pics anyway.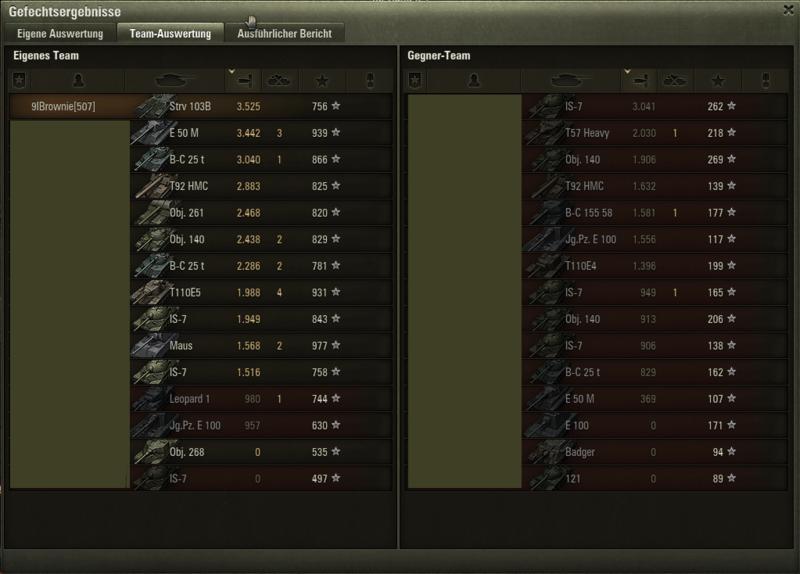 As you can see, this idea didn't really work out for me. The xp I gained is extremely disappointing.
I know that the experience you get for damage you do to targets that are spotted by someone else is split evenly.
However, this made me aware of the fact, that it is often difficult to understand how your gained experience comes together, as I have since then observed, that damage+spotted damage does not correlate as much with the experience earned as I thought. This is annoying, especially in Ranked battles, where the experience you gained is very important.
I just find it unfair, that the person with the most damage in the team doesn't even count as one of the guys who did enough to at least deserve one Chevron.
This might explain why I think this is unfair.
How to deal with that?
1. To make it more easy to understand, maybe add the information how much of the damage you did was also awarded to you as spotting. The "damage over 300m distance" does not help with that.
2. Splitting spotted and dealt damage evenly is fair, I get that. But I think its not fair, that damage, which was spotted by yourself is double as worthy as damage that was spotted by someone else. It migt be fair to be 1/3rd more worthy, but double? That sucks.
Thanks for reading, cheers.