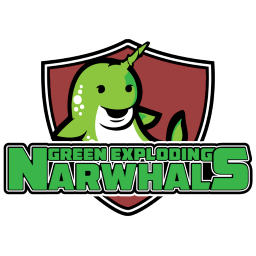 The Green Exploding Narwhals are an English speaking group of friends that have stuck together after being in a 
few different clans as a group and we have finally decided to try and make a proper clan out of it for ourselves.
We have loads of experience in the game itself & in its competitive parts and are aiming to create a fun and
competitive environment in which strongholds, advances and perhaps even clan wars (outside of campaigns) 
are set-up on a regular basis. Surely you must be thinking; OK, but what can do offer now? Quite frankly nothing in
the beginning since we need to build up the numbers and actually have enough players to do these kind of activities.
All we can do is promise you we will start doing them as soon as possible.
Our requirements:
We do not aim to be a elitist clan but do want players that can use their own brain and are fun to engage with.
Therefor we are looking for players that are around the clan average in stats and have some competitive tier 8 & 10 tanks.
Next to the tanks & the stats we are looking for people that can understand and speak English, are not raging all the time
and in general are fun to engage with. It is also not a shame to make a mistake as long as you learn from it.
As for what we can offer right now; 
We use Discord for text chatting, Teamspeak for voice communication (with Discord as an backup) and active platooning 
most of the time. As said before hopefully we can provide strongholds in the near future as well once the clan grows a bit.
Are you are still here after reading all of the above and are still interested? 
You can apply directly on the WoT website and one of our staff will get back in touch with you. 
Want a more personal touch or just talk to us before applying?
You can find us on Discord or on teamspeak at ts.gen-gaming.com
The current staff members that are working on the recruiting are Lannis & predac.
We hope to see lots of replies and look forward to playing together with you!