I noticed other topics about this arty haven't been updated or commented on in a long time so I made a new topic. I would like to share my opinion and experiences with this arty, and see what other players think about this arty.
I started grinding American arty line many months ago because I want to get the M53/M55. I focused on grinding this line, starting from tier 5 arty that I had unlocked and the grind wasn't painful or bad at all so far.
I was expecting two arties from this line to be my all time keepers and my favorite arties in line - M44 and M53/M55, but I never ever expected that it will actually be hard to consider selling M40/M43 once I'm almost done grinding it.
At this point, I have 212 battles played in it, and only need to grind for 25k xp more to research the M53/M55. I have it a bit "pimped out" but not to the maximum. Here are my crew skills: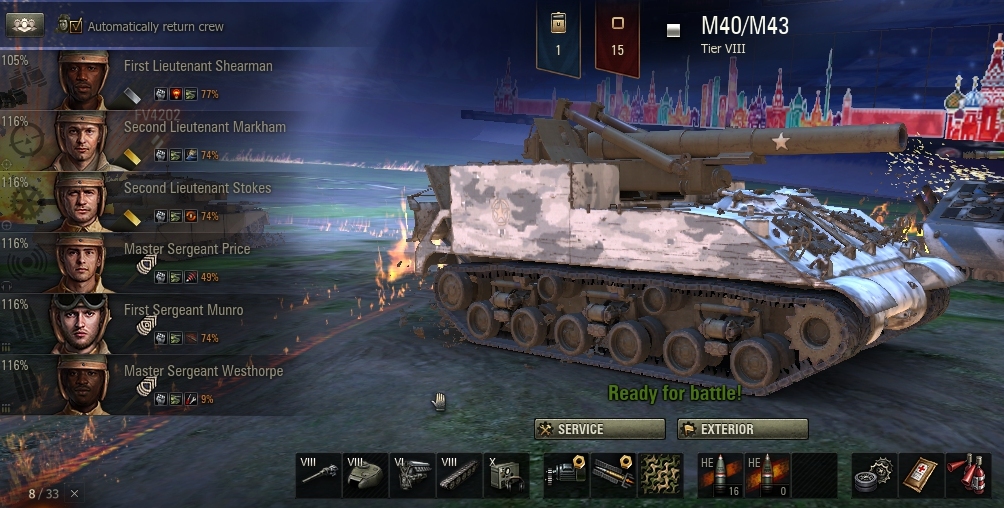 As you can see, I am working on my third set of skills. I've BiA on entire crew, 100% camo on all crew, and am working on snap shot, clutch braking, situational awareness, adrenaline rush and repairs. I use enhanced gun laying drive, rammer and camo net. For consumables, I still use automatic fire extinguisher simply because am waiting for consumable discount to buy a big number of food consumable/cola which I'll be using after the discount (there's really no point in carrying fire extinguisher, I can't remember being set on fire once). On this arty, it is very important to invest in good crew, getting good equipment for it and consumables because - it does pay off.
Mobility:
M40/M43 is not a very mobile arty, but it does have some mobility. It weights 39.5 tons, it has 500HP engine, it's power to weight ratio is ~13.4 hp/t and top speed is 38km/h.
In other words, you really have to get used to its mobility and always think ahead. It is not as slow as SU-14-2 or G.W. Tiger P, but it is also not as fast as Lorraine 155 51. It can react to situation and threats, and relocate, it just doesn't do it as well as French arties. Once you get used to this mobility, it is really not a problem.
Firepower:
It has a choice of two guns - 155mm M1A1 (which is a stock gun) and the main, fully upgraded gun 8 inch Howitzer M1. Both guns are a good choice and it's on the player to decide which suits their playstyle more.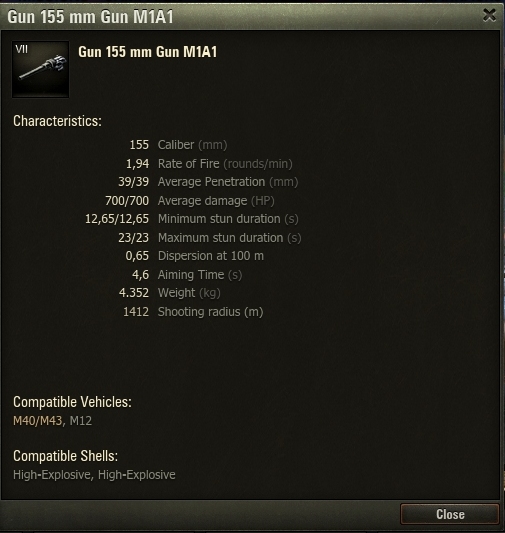 The main advantage of using the 155mm gun is the rate of fire. My reload time with it (without using food) is 26s which is very good. This is especially good for battles when you get to be top tier and shoot tier 6,7 and 8 tanks, when you get big open maps with a lot of opportunities like Prokhorovka and you want to fire often (and counter battery), or when you get a really bad team which dies in first 5 minutes so you want to fire as much as you can in those 5 minutes. The gun also has 0.65 accuracy so - that's not bad at all for an arty. 4.6s of aiming time (with BiA+GLD it's 3.9s) is also very good! And lets not forget - with the smaller gun, you do get to carry a lot more ammo!
However, the penetration is the worst thing about this gun - it's only 39mm. When you are bottom tier - this is just not really enough and you can feel that you need a bigger gun to deal with such matchmaking.
This is the main gun on it and it's completely different. Reload time is pretty long, mine is 38s. But this gun can actually splash enemy tanks for hundreds of damage, and even pen some lightly armored vehicles for a ton of damage. As you can see, penetration has went up to 52mm which is actually more than I have on my tier 10 French arty! And this is "only" a tier 8 arty - so this is a pretty dangerous and good gun.
The worst thing about the gun is this 0.77 dispersion, and the aiming time is longer compared to the smaller 155mm gun. That's pretty bad but it usually just means that - if you are a patient player and give yourself time to aim well (and you have good crew) shots will usually land where you want them to. Usually, but not always
Afterall, you do have a very long reload time so there's more than enough time to aim your shots well.
The gun I use is 8 inch Howitzer, simply because I feel like if I wanted to play arty with 155mm caliber, I'd play Lorraine instead because it gets a similar gun but it has more mobility.
There are few other things which are good to know when it comes to M40/M43:
1) It has -5 degrees of gun depression which makes it good at shotgun mode, this also makes it more dangerous than for example Lorraine 155 51 which is a tall vehicle with 0 degrees of gun depression. With -5 depression, you can shoot at closer range better than you would be able to if you had no gun depression.
2) It isn't expensive to play. I actually make profit with it after almost every battle. I usually make 15-20k profit after repairing it and resupplying ammo which isn't that much credits but - considering the current matchmaking tier 8 vehicles get, and the fact that it's an arty - 15-20k average profit is pretty good (with a premium account).
3) Gun arc/gun traverse to each side is 18 degrees. This is better than most other tier 8 arties, the only arty that has wider gun arc is the British FV207 with 22 degrees on each side. This means you still have to move your tracks often, but not as often as most other same tier arties have to and it's an important thing.
What I'd like to know - are there other people here who actually kept M40/M43 for fun, even after researching M53/M55?
I'm aware M53/M55 is going to be even better for me but M40/M43 just feels like a hidden gem in this line. Many people overlook it and underappreciate it and that seems to be simply because - this is a very specific arty that works best in experienced hands when pimped out with good crew + crew skills, equipment, food. Once you figure out how to play it properly, and know what it's good at and what it's bad at, what it can and cannot do - and have great map awareness and smart positioning - it can be a beast and so fun to play. I don't feel like I'm even grinding it at all, I'm playing it for pure fun lately. 
What's your opinion and experiences with M40/M43?
Edited by General_McMuschi, 28 June 2018 - 10:22 AM.