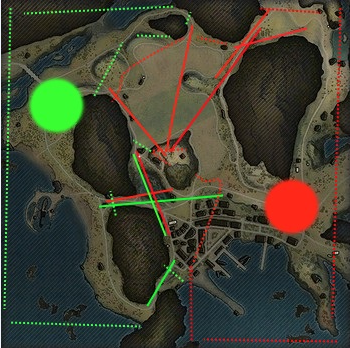 Funny note: I got the original picture from a News post on the WOT site called: Level Design Improvements: My Sweet Fjords.
This map is so unbalanced it isn't even fun anymore. At the lower tiers it's okay because everyone has bad viewrange, but it's hell on the high tiers.
1 tank on the hill in the middle gives the red team basicly the whole of the top of the map, except for the lowered position, but those are useless because there's not much you can do against a hull down tank on the little hill... The red team automaticly wins the top right valley, because no one crosses there anymore because of the mid hill snipes, and if they make it they get in a crossfire because if they drive to far up they get shot from the mid hill, and infront of them the enemy has a position to peek from whereas the green tank has nowhere to hide. For the green team this part has become like Amsterdam-southeast, a No-Go-Zone. The only thing there's left for the green team is to go to what used to be the heavy corner, but now is the Light-Med-Heavy-TD corner. Fjords has never been my favorite map, especially because of the camp games during CW, but wow I don't understand how this map could ever get so much worse....
Edited by Jeroenpeter, 07 July 2018 - 04:25 PM.