LK_4D4, on 14 July 2018 - 12:03 PM, said:
well now we know what are the real nicknames of the players which was rigging battles
They dare to cry in the forums even they are guilty of it. The big and the only difference why you was removed and me not is that we have achieved our results without rigging or cheating and i can prove it (all replays are stored). Your brain capacity is probably too small comprehend the fact that we was pushing hard to achieve something like that and spent quite a time to become good at this. Another thing which you missed with your great analysis is player from FAME (nothing against them i have just use it as example) which have won ball with 100% in stage II. So by your great logic 100% is only possible for FAME players or your rigging team which was removed twice in stage III and IV
 wg is not stupid but you are 
YOU as first in the rank of the S3AL clan has all the victories he has achieved in just two hours of playing? He only had 15 points?
Can you explain to us how this is possible ?! Superman is a little kid for you ...
And you still have a face to appear here and write something ... But your clan will of course not be punished by something that is obvious. I will not say what other players will see how good you are ...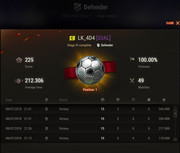 Edited by Jahpero, 14 July 2018 - 01:23 PM.
Quote edited / red color