So, I know that Wargaming wants some tanks to be bad and you probably know one of the worst offenders: the t-34-2. However, just take some time to appreciate just how bad it is: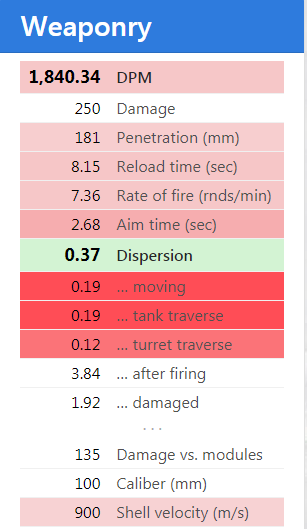 Notice how the gun is considerably worse in pretty much every single way compared to the Chinese LIGHT tank. You can make all of these comparisons with different tanks in tier 8 and come to the same conclusion. Basically It has worst in class everything when it comes to firepower and is generally outclassed in mobility and armour. 
But why post now? haven't I been angry at this for several years?
Yes, yes I have, and I've been angry at the fact that it's the only chinese medium tier 7+ that does not have above average alpha and penetration for it's tier for quite som time (the 122 does not count, gets completely outclassed by rev and guard). But the thing aggravating me the most about this is not the fact that it's bad, it's that it's about to remain bad despite new buffs to other Chinese tier 8's like the wz-111, 112, t-34-3, and most annoyingly, the type 59.
In other words, they realize the t-34-3 and type 59 are terrible/bad and buff them but refuse to buff an unarguably worse tank that gets worse matchmaking.
To give a sense of how little Wargaming cares about this tank: For an entire patch in 9.21 including bugfixes, the tank mistakenly received 0mm of top armour, meaning that all high explosive shells automatically penetrated the top of the tank. And why did it go unnoticed? Because no one plays the tank, It's actually least played tank in tier 8 other than some rare premiums, which in turn is a result of it being so absolutely atrocious.
Yet for some reson it's still supposed to average 1043 damage per game (wn8) vs the t-44's 1052 lmao.