As if it wasn't bad enough, the mission window is false, claiming we get a full crew (spoiler; we don't):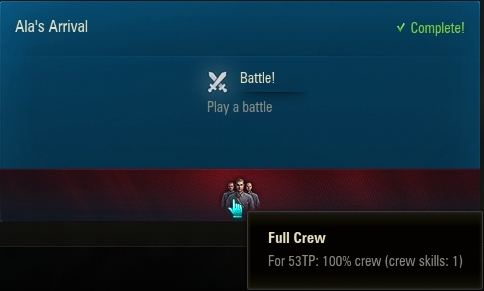 Just to put icing on the cake, the female commander you receive only has one fully trained skill, 6th sense, which you can't even change to for example, the most logical and obvious one with female crews - BiA!

I already have a crew from the tier 7 heavy with BiA trained on all 4 of them, now retrained to the tier 8 heavy. So what can I do now? This female commander's 2nd skill starts at 0%, so what, am I supposed to use free xp just to get the 2nd skill - BiA - trained to 100% JUST so the rest of my crew, and the entire tank, can benefit from it??
This is so low from you, WG. I expect every female crew member to have BiA from the get-go, with the 2nd skill of our choosing trained to 100%.
I can't use her now. I grinded to tier 8 to get a full female crew. I expected a full female crew. I got one commander whose starting skills don't fit into the standard female crew template.
What you did is scam me and the entire playerbase. I expect compensation, or at least an apology. It's like you're mistreating the entire Polish community with this female crew member, which is weaker than all the other female crews we ever saw.
When the Swedish tree was introduced, we got a full female crew as a reward. When the Italian tree came along, we at least got Buffon with two fully trained skills. Now the Poles come in, and they get the least rewarding crew member. On top of that, some tanks in the tech tree are borderline unplayable unless you upgrade them with free xp.
Massive disgrace.