Hello, I need help in the implementation of the script.
It is necessary to make the display of the clan information in the teamspeak server
This information should display clan information.
Example:
there is such a working script on the RU region, but its developer refuses to give information about how it is built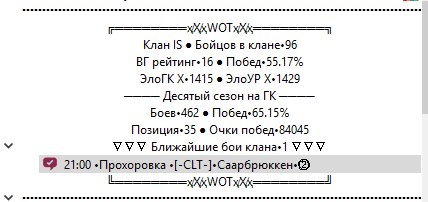 Translate:
╔════════ҳ̸Ҳ̸ҳWOTҳ̸Ҳ̸ҳ════════╗
Clan IS ● players in clan٠96
WG Rating٠16 ● Wins٠55.17%
Elo GM X٠1415 ● Elo Stronghold X٠1429
──── Tenth Season In GM ────
Battle٠462 ● Wins٠65.15%
Position٠35 ● Vinners Point٠84045
∇∇∇ The nearest battles of the clan ٠1 ∇∇∇
21:00 ٠Prochorovka ٠[-CLT-]٠Saarbrucken٠⓶
╚════════ҳ̸Ҳ̸ҳWOTҳ̸Ҳ̸ҳ════════╝
I need to find a system that will display this.
I have a micro system which is based on Sinusbot
But I need to make it an extended version, can anyone have such a system that is already implemented?
I need a system through which this can be realized, a question on api partial
because the data from it we know how to take
but how to install them we do not know
13:27 Added after 2 minutes
this script works well on the server
adress Teamspeak 
AJIEN.wot-ts.ru
and
ts.ironsquad.ru