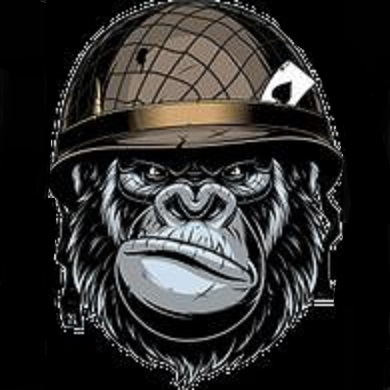 Psycho-Gorillas [PSGS]
About us:
  Psycho-Gorillas are looking to recruit members who enjoy banter as well as a good game of Tanks.
We are currently focusing on building a small but friendly clan and if you think you would fit in please step up and let us know!
Clan Requirements
Speak English
18+
Have TeamSpeak 3 installed
Have suitable tier 6, 8 and 10 tanks for competitive battles
Ideally to have played 8.000 battles cumulative in any battle mode
Ideally have a minimum 50% win rate
Have a recent WN8 of 1200
Don't meet these?
If you're relatively close to the requirements the staff will assess your other statistics and if you do get accepted, there will be a small trial phase to ensure that you perform to the requirements.
What you will receive in return;
- Experienced players that are looking to help you improve your game play
and most important you will have fun
Clan Commander
Only_Gold_Shots
Deputy Commanders
AGIOROB
Ready_For_you
Wopp3r
Personnel Officers
Gixxer83
Scout67
Recruitment officer
ChibreLePourri
So if this fits, and you are looking for a Clan that battles hard whilst having fun then come say HELLO today!
Our Teamspeak address is: oslo18.spillvert.no:10090
(We Also Run A Dedicated Discord Page For All The Latest News And Friendly Chat
Real life ALWAYS comes first in this clan, so let us know of any inactivity/time away and we will keep your place open.