An agreement is done, under one flag [PTS] Pirates  & [322] Skull and Bones are going to create one CW power. 


[322] will fuse [-322-] [Skull and Bones Frontline with [PTS] Pirates, into [PTS] 322 Pirates permanently. [PTS] will use new clan logo: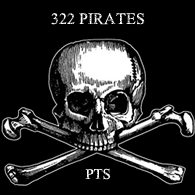 [PTS] will also use 322's main logo on tanks and cw/campaign map.



During campaigns, all the players from [322] that will be interested in campaign will be encouraged and notified to join [PTS] 322 Pirates. 322 is already sending a group of players from 322 to PTS for the upcoming event. 

All the players from [PTS] 322 Pirates that will apply to 322 will have priority over all other applicants. -322- will be disbanded and merged. Voice comms from [322] and [PTS] will be merged, 322's recruitment thread, clan description will be changed, all the players wanting to do randoms only will be directed to [322] and all the players interested in clan oriented play will be directed to [PTS] 322 Pirates. Free flow between clans, depending on the type of activity players want to do, will be encouraged. 

We want to offer players the best of both worlds, great platoons for random play and top cw and campaign experience. Both clans have great respect for each other and each others achievements. Our histories are also connected and both sides have always strived to reach and surpass the highest standards in wot and offer our players the best possible experience regarding the activity they want to do and we intend to keep doing that in the future. 

All the 322 players that already left to do a campaign, before this was announced and found yourselves a clan, you're all welcome to join [PTS] 322 Pirates for upcoming event and fight the campaign under 322's logo and leadership and experience from PTS.