Hello,
Now because of the Sturmtgier event the talk of adding Sturmtiger into the game has came about
Either as a premium , reward tank or collectors tank 
However, the Stupa  (Brummbar is the western nickname, Stupa the German nickname) is much easier to balance,
I have attempted to make it fit. tier 6 here, please do tell me your opinions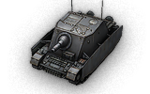 Crew 5 (Driver, Commander, Gunner , 2 Loaders)
Armour 100/40/20 
100mm only on the superstructure, the hull armour below is 40mm and 20mm thick respectively 
plus the machine gun port can always be made a weak spot with 60mm if need be
38 rounds it can carry
Gun 15 cm StuH 43 L/12  
HE shell 80 pen / 900 DMG
 HEAT Shell  135 pen / 690 DMG
ROF: 3.0 Rounds a minute 
Aim time 2.5 
Dispersion 0.55
Top speed 40 KM/H
Reverse speed 9 KH/H
Power to weight ratio : 10.64
Traverse speed: 28 Degrees per second
Gun elevation -8°/+30°
15 degrees each side for gun movement
SO, what do you guys think? balanced? or not? 
Ive tried to keep as historically possible as well
Edited by saxsan4, 26 June 2020 - 10:33 AM.